Today's Cigar Store and lounge takes me to Milan Tobacconists – located in the heart of downtown Roanoke, Virginia.
Milan Tobacconists has a very modern look to it, but it actually is a business that is nearly a century old – established in 1912. The web-site has a terrific history of this store. Currently owned by David and Renee Meyer, the model for the store is as follows – retail store, smoking lounge area, and a private club upstairs known as Commonwealth Cigar Club.
Upon walking into the store, there is a lot of area for the retail space. The walk-in humidor is located toward the back and right of the store. I'm going to estimate there are about 125 to 150 different types of cigars located in the humidor. There are also some brands that are humidified outside the walk-in humidor. Like most tobacconists, Milan has their selection of key brands where that are going to take up the most shelf space. The primary brands I observed were: Davidoff, Padron, Ashton, Rocky Patel, and Tatuaje. There were also several complementary brands such as Drew Estates, CAO, Oliveros, Fonseca, and Altadis. The store being a "tobacconist" also has its share of pipes and pipe tobacco.
There is smoking allowed in the retail store. I'm estimating the retail store to be about 2000 square feet. However, despite the large amount of space, there was not an abundance of seating. There were a few seats in the store and there was a bar-counter where folks would gather to smoke cigars. I did not see any chairs at the bar area (that would be a great spot). The best chairs were actually located on the stairway landing that leads to the private Commonwealth Cigar Club located upstairs, however there were only three on the landing.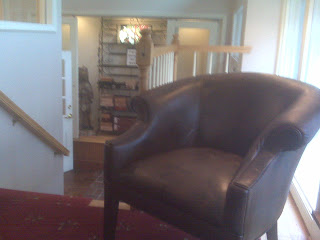 The Landing Area
I did not go to the Commonwealth Cigar Club, but this appears to be newly established. The web-site says "Amenities and benefits are plentiful and include private humidified lockers finely crafted from mahogany, billiards, card table, wireless Internet access, and satellite television viewing on wide-screen TVs." The private club is pretty private – in other words no visitors are allowed there unless accompanied by a member or if a 24 visit membership package is purchased. Membership to the club is dependent on application approval – and it appears a background check is required for membership. Membership starts at $324.00 for a 24 club-use package – all the way up to $850.00 for unlimited membership – full unlimited use with a locker.
The one drawback is that this place closes early – 6pm and is only open 10am to 2pm on Saturdays (with the store closed on Sundays). This is probably because much of the activity in downtown Roanoke dies down when the work day is over. The store will extend hours for certain cigar events. The Commonwealth club is open later during the week and weekends, but is closed on Tuesdays.
Parking is limited. There is metered parking on the street. I did find a $6.00 daily rate in a parking garage acros the street.
Since I experienced the retail store and free smoking area, I did find this a nice quiet place to smoke. The staff was very pleasant and the stick selection was good. As mentioned above, the only drawbacks are the limited seating (which wasn't a problem when I was there) and the limited hours of operation. Overall, this was a very clean place – and a place I would go back to.
Contact Info:
Milan Tobacconists, Inc.
309 South Jefferson Street
Roanoke, Virginia 24011
Monday-Friday: 10am – 6pm
Saturday: 10am – 2pm