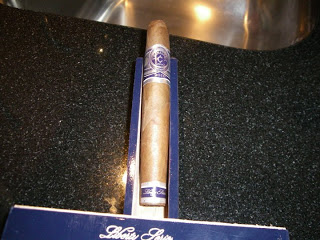 One of the most anticipated sticks of each cigar year is Camacho Cigars' release of the Liberty edition. Following the micro-batch concept, Camacho releases a limited number of a sticks blended specifically for the year. Each stick is put into its own individual coffin-like box and numbered. From year to year the blend and design of the stick changes. Certain year editions are more sought after than others. As for the 2010 edition, I think when all is said and done, this one will be considered a winner.
For the 2010 edition, there were 40,000 sticks made by Camacho. There are two indigo bands on the stick, one toward the cap and another on the foot. Each year, the Liberty is only released in a single vitola. This year's cigar is in Camacho's trademark 11/18 shape – which usually translates into something similar to a Perfecto or Figuardo shape. This year's shape is a 6 x 56 that defintely leans more toward a Figuardo in shape. In a year where I feel Honduran tobacco took a back-seat to Nicaraguan tobacco in a lot of new sticks, I was glad to see a very good stick emerge with tobacco from Honduras.
Here is a look at the composition of this stick:
Wrapper: Ecuadorian Sumatra
Binder: Honduras
Filler: Dominican Long Filler and Honduran Corojo Ligero
For this stick, I went ahead and put a gentle punch into the cap. I then proceeded with a careful toasting of the foot of this one. Given this was my only stick, I didn't want to misfire on the lighting of this stick.
The initial draw of the stick produced an interesting complexity right off the bat. There was a definitely mix of nutmeg and cedar sweetness to this stick. In the background, there definitely was a another note that seemed unique and that was butter. I had read the review in A Cigar Smoker's Journal about hints of mesquite emerging from this stick, so I knew that this could be the case as I smoked this. Sure enough about 20% into the stick, I was definitely detecting these notes.
The complexities continued in the second half of this stick. The butter taste definitely transitioned to somewhat of a more traditional cream note that is found in many cigars. The sweetness almost took on some notes of fruit in the second half. Toward the end of the smoke, the sweetness definitely diminished and I picked up more wood notes. I was able to get a nub that almost went to my finger on this one – and the nub was as cool and firm as can be.

One thing I have been lax on discussing in my reviews has been the aroma of a cigar. This cigar produced one of the most pleasant aromas I've gotten from a stick. There was almost a light floral aroma from this stick that emerged around the 50% point of the smoke. It was pleasant, but still not overpowering so I was able to be secure in my manhood on this one.
The burn of this stick was good. There were times the ash began to flower, so I'm wondering if I had some slight issues with the wrapper. However there were no issues with the draw as this was a pleasure to smoke.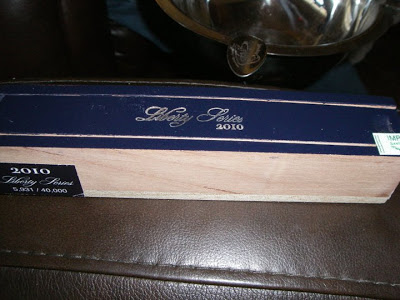 My Camacho Liberty 2010 sealed in the box- #5931 of 40000
I'm not going to provide a detailed comparison of the Liberty 2010 to previous years. Namely because I haven't smoked them all and because the stick is a completely different stick from year to year. The one point I will make is while this year's stick does not have a flashy look like the barber-pole wrapper on the 2007, this is still one heck of a stick. I'd highly advise getting one or two for your collection.
Draw: Excellent
Burn: Good
Strength: Medium to Full
Body: Medium to Full
Assessment: Memorable