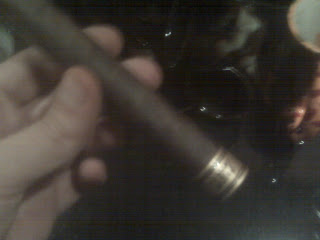 Not the best picture, but its a beautiful Maduro wrapper
If you frequently follow the reviews around here, you know that when it comes to the Indie Cigar market, the folks at Esteban Carreras lead the pack. Led by Craig Cunningham, Esteban Carreras is nicely building a loyal following among Cigar Enthusiasts. This year has been a good year for Cunningham and his team with the release of two new cigars – the 5150 and the 187. I posted a review of the of the 5150 back in September. The 5150 was a medium strength, medium body cigar that had a some nice complexity as well as some terrific pepper spice. I'm pleased to report that the sibling cigar to the 5150, the 187 is even better.
While the 5150 had an Ecuadorian Sumatra wrapper with Nicaraguan binder and filler, the 187 is all Nicaraguan highlighted with a Nicaraguan Maduro wrapper:
Wrapper: Nicaraguan Maduro
Binder: Nicaraguan
Filler: Nicaraguan
The 187 is available in the same two sizes as the 5150:
Toro: 6″ x 50
Torpedo: 6 3/4′" x 52
Upon lighting the 187 and taking the initial draws, I got some notes of salt -a very common trend with Nicaraguan sticks. The salt taste transitions pretty quickly to a more cedar spice (also a common transition). However it is the notes of cocoa, wood, and earth that really are going to take the center-stage early on. As the stick begins to hit the halfway point, the cocoa becomes more of a sweeter chocolate – and that flavor is definitely more prominent than the spices. However, as the cigar moves toward the final third, there is a return of the cedar spices. The finish to this cigar was soft, however it was burning cool and did not have any harshness. Overall, I'm not going to say this cigar had a unique flavor profile, but it does provide a very satisfying flavor profile.
Construction is very good on this stick. The draw on this stick was good and the burn only required a minor touch-up here and there.
The strength and body of this cigar are also going to both be in the medium to full range. This stick definitely is stronger in both these categories than its sibling cigar, the 5150. Finally, just like the 5150, this is going to be a value-priced stick – around the $5.50 – $6.50 range. With the 187, Esteban Carreras continues an amazing track record of producing very good sticks. I only wish they would roll this stick with a bigger ring gauge. Still worth checking out.
Draw: Good
Burn: Good
Strength: Medium to Full
Body: Medium to Full
Assessment: Nice to Have