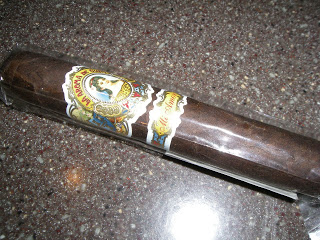 #11 La Aroma de Cuba Mi Amor
We are just outside the Top 10 of "30 Cigars in 31 Days" – my review of the Top 30 Cigars of 2010. The decision on what sticks to place in the Top 10 was very difficult. It is perhaps this stick that was the most difficult to leave out of the Top 10. I thought about doing a "tie" for #10, but felt it would be too cliche. Therefore I opted to leave one stick out.


Coming it at #11 is the La Aroma de Cuba Mi Amor. In many other years, this would have been a Top 5 stick, but this has been one of the most competitive years in the cigar industry. This cigar is the latest in Ashton's La Aroma de Cuba line. The cigar master, Don Pepin Garcia has his footprint on this blend and it is terrific. It features trademark Pepin Nicaraguan binders and fillers, but also shows Pepin's willingness to go beyond the Nicaraguan borders by incorporating a Mexican Cuban seed wrapper.
This is the perfect after-dinner cigar. After the initial pepper notes Pepin is known for, this cigar settles into a deep coffee and chocolate taste. The chocolate notes are rich and sweet, yet this cigar does not taste like an infused cigar. I categorized this cigar as medium in strength, and medium to full in body (almost completely "full").
A full review is available here for more details on my experience with this cigar.
Recommended Vitola: Valentino (5.7″ x 58)
Note: While I have said this might be a down year for box-press sticks, the Valentino is only stick in the Mi Amor line to not be a box-press. That being said, the box-press sticks are still outstanding, but to me the big ring gauge of the Valentino was too hard to resist.