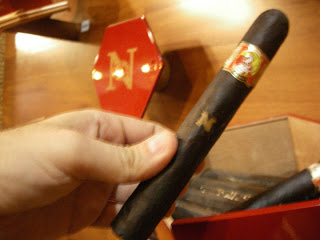 #10 La Gloria Cubana Serie N
The time has come in "30 Cigars in 31 Days" – a.k.a, my review of the Top 30 Cigars of 2010 for the Top 10. So far, there have been 20 outstanding sticks, but now we hit the cream of the crop.
At #10 is another creation from General Cigars' La Gloria Cubana line – the La Gloria Cubana Serie N. This stick made its debut at IPCPR and was released by General Cigars in the Fall. The Serie N is meant as a sibling stick to La Gloria's popular Serie R line. The "N" in the name represents the Nicaraguan tobaccos that are blended into this stick. As many know, the original Serie R was the creation of the legenday Ernesto Perez-Carrillo Jr. As many know Carrillo has left General and has formed his own boutique line of cigars. The great news is the new folks at Team La Gloria Cubana are keeping the excitement and quality of the brand moving forward.
The blend features proprietary Nicaraguan binder and filler. On the outside is a magnificent Capa Oscuro (Ecuadorian Sumatra) wrapper. Team La Gloria Cubana has proven to be one of the most creative in the industry and this creativity is shown by the letter "N" that is embellished right on the wrapper. Packaging is unique too as the cigars are placed at different angles in a unique red hexagonal box.
Ultimately the smoke is going to be the deciding factor and this does not disappoint. It delivers notes of mocha, chocolate, leather, black cherry, and raisin. It is the raisin notes that I felt were the most unique and really made this cigar special. The strength of the cigar falls into the medium to full range (the appearance of the wrapper makes this seem stronger than it is) and the flavor notes are whole making this full-bodied.
A full review is available here for more details on my experience with this cigar.


Recommended Vitola: Glorioso: 6 1/2 x 58