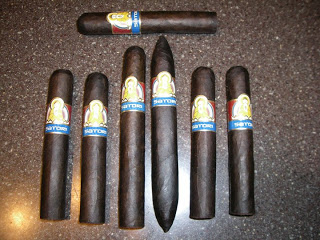 #3 Viaje Satori
"And then there were three….." We now have hit the Top 3 of "30 Cigars in 31 Days" – my review of the Top 30 Cigars for 2010. The three cigars that will be posted over the next few days are the cigars that have "medaled" in 2010.
Coming in at #3 is the Viaje Satori. Viaje is a true Indie cigar company. Andre Farkas has really built a loyal following of enthusiasts with his line of cigars. Viaje has been employing a "micro batch" process for its cigar releases. Namely, it is producing the majority of its boxes in small batches (i.e. under 500 boxes) for a release.
This year the stick from Viaje that got the most attention was the "Skull and Bones", but in my opinion it is the Satori that is the real winner from Farkas' line in 2010. The key to this cigar is Thits Double Oscuro wrapper. What makes an Oscuro wrapper cigar special is not only its black oily color, but the sweetness that results from the fermentation and curing process. The Satori's wrapper nails it here – and btw, this is not a dyed wrapper.
The remaining tobaccos in the binder and filler are Nicaraguan (standard for Viaje). The flavor notes have a lot of cocoa, coffee, chocolate sweetness – but there also are notes of black cherry toasted almond to really give this cigar some unique flavors. The sweetness from this cigar is what I would expect from an Oscuro. The Satori also produced a wonderful aroma. The strength of this cigar is medium while the body is definitely in the medium to full range.
Word is that only about 450 to 500 boxes of this cigar has been produced, so this might be a little difficult to find.
Here is a Pre-Review of more detail of my initial thoughts on this cigar. Since then, I've smoked a few more and have been better able to develop a profile on this cigar. A more detailed review will follow.


Recommended Vitola: Karma (5 x 52)