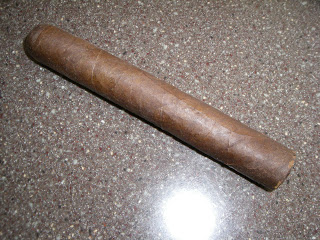 #2: Tatuaje Gran Cojonu 2009
"30 Cigars in 31 Days" is coming to its conclusion. In my review of the Top 30 Cigars it is time to reveal the runner-up for 2010. In this case, the expression "Close but no cigar" could not be less true.
Coming in at #2 – for the runner-up slot for the 2010 Cigar of the Year is the Tatuaje Gran Cojonu 2009. At first from the title you might be thinking I made a mistake – this is a 2010 countdown. However this was a cigar that came out last year and really didn't make it to many shelves into 2010. Since I did not have this under consideration last year, I felt it was important to give this Cigar its due justice in 2010. I smoked my first early in the year, and it was in the running for Cigar of the Year all year in my book.
This cigar is right up my alley. It's a monster 6.5 x 60 ring gauge – oh yeah, the cigar that eats like a meal. It's full body and full strength. It's all Nicaraguan wrapper, binder, and filler. The wrapper is Nicaraguan Corojo 1999. Usually I am not a fan of the Corojo wrapper, but in this case it won me over.
Simply put, this cigar was one of the best 60 ring gauge cigars I ever smoked. It definitely ranks as the best stick I've ever had by Tatuaje. I can even make a case for it being the best. The flavor notes are.
I will be writing a detailed review soon on this one.
Recommended Vitola: 6.5 x 60 (only vitola available)