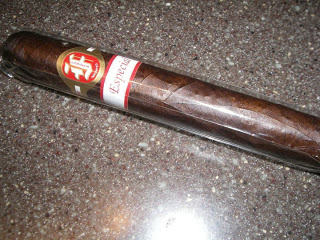 The name Manuel Quesada is well-known to the cigar community. And when you've met him, you know about the passion that he brings to the table. In the past couple of years, Quesada has been associated with the highly successful Quesada and Casa Magna brands, but it was the Fonseca line where Quesada had his start. Today, I explore a 2010 addition to the Fonseca line – this one is called the "Fonseca Especial". This is a pretty powerful cigar that was the brainchild of Quesada. Since I've only smoked one of these, I've opted to Pre-Review this.
This cigar might prompt a little confusion with a limited edition cigar called the "2003 Fonseca Reserva Especial" that was released a few years ago. The "Fonseca Especial" has different banding and a different blend. I'm not sure how long the run of these cigars will be. I can say that these have been released in limited quantities and it has not been a cigar that has been very easy to find.
Let's examine the construction of this cigar. It has a most interesting blend of tobacco:
Wrapper: 1998 Honduran Criollo
Binder: 1998 Dominican Criollo
Filler: Dominican Ligero
This cigar is currently only available in one vitola – a 6 x 54 Toro.
For this initial smoke, I opted to punch the cap of the beautiful oily Honduran Criollo wrapper. There is a good part to this smoke and a bad part to this smoke. On the positive end are the flavors and complexity. This cigar produced as good a flavor profile as I've seen from any Quesada smoke. There is a terrific sweetness at the start of this smoke. In fact, it almost has a coke-syrup like flavor to it. I also detected some coffee notes that balance the sweetness nicely. About 10% into the smoke, the syrup taste fades (but doesn't disappear), and a leather/coffee combination emerges with a hint of cedar. Around 20%, there was an introduction of some cinnamon and wood notes as well. As the smoke progresses to the halfway mark, the sweetness does re-emerge from time to time, and at other times the leather/coffee/wood notes will be more dominant. It is around the halfway point, where I really saw a cedar spice kick in. The spice combined with wood notes will be a part of the second half of the smoke. This smoke is definitely a full bodied/full strength smoke.
On the negative side, I did have burn issues with this cigar. I constantly was having to touch up this cigar. During the second half, the burn issues were more pronounced and this led to some chiseling and tunneling of the smoke. The end result was a very harsh finish to the cigar. In the end, what started out as a promising smoke did not finish as I would have liked.
Overall, I'm inclined to think this might be an isolated incident with the burn issue. The cigar was pretty promising at the beginning and had excellent flavors. I'm hopeful to try another few of these and then be able to make an assessment. In the meantime, I'll let this pre-review document my thoughts on this cigar. I'm curious to see what other folks think.