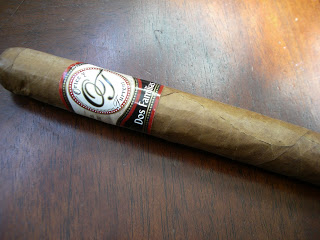 Back in May, I attended a Cigar Dave event in Charlotte and got to sample the world premiere of the A. Turrent Triple Play. The Triple Play was a Triple Maduro that was created by Alejandro Turrent. I was very pleased with this cigar and in the end I ended up selecting this as the #20 Cigar for 2010. At that event, I learned that Turrent was in the process of also collaborating with Omar Ortez on a cigar. I've also been a fan of Ortez's work and selected his Warlock as an honorable mention for 2010. Therefore, upon hearing about the Ortez/Turrent collaboration, I was pretty excited to try the "Ortez y Turrent Dos Familias". I recently have been sampling this cigar, but unfortunately I cannot be as positive on the Dos Familias as I would have liked. This cigar was a major disappointment for me.
First let's take a look at the blend of this cigar:
Wrapper: San Andres (Mexico) Criollo
Binder: Nicaragua
Filler: Nicaragua, San Andres Negra
The cigar is also available in several vitolas:
Churchill: 56 x 7
Toro: 56 x 6
Belicoso: 52 x 6 1/8
Robusto: 52 x 5 1/4
Corona: 44 x 5 1/4
For this particular review, I opted to smoke the Churchill. Now as a disclaimer, while I was excited about the collaboration, I'm not the biggest fan of the Criollo wrapper. However I did go into this cigar experience with an open mind. I also will say that I have an open mind when it comes to Mexican Tobacco. I love the Mexican tobacco in the Triple Play and recently reviewed the Gran Habano Azteca – a stick that has a heavy dose of Mexican Tobacco.
Starting out with the smoke, I was treated to a very short quick blast of salt. Normally I find this with all Nicaraguan sticks, so I was a little surprised with that. The salt blast is quick and the cigar goes right into a very earthy, woody taste. I normally am fine with earth and wood flavor notes, but these just did not set me on fire. As I progressed with the smoke – particularly through the first third, I was waiting for something exciting to happen. Around the 1/3 point, I did get some pepper spice – nothing overhelming. The pepper spice would increase somewhat, but it never really grabbed hold of me. Toward the final part of the cigar, it got pretty harsh. I did smoke this for two hours, so a long smoke can lead to some harshness. This could have been the case with this.
The cigar finished cool, but was soft. I usually prefer a firmer finish – but again this could be from the length of the smoke. Overall, it was a good burn and good draw – it needed several touch-ups, but these were minor in nature. From a strength and body profile, I categorize this as medium in terms of both.
In the end, I end up assessing this as a "Pass". This cigar while a "value priced" cigar in the $5.00 – $7.00 range, just never did anything for me. With there so many good "value priced" cigars out there, this just wasn't one I would reach to. I'm still a fan of Ortez and Turrent, and would love to see them take another crack at things. Right now, this stick isn't for me.