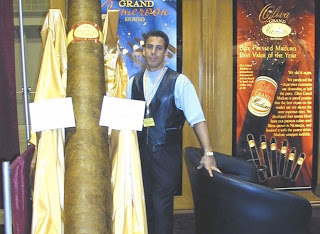 Larry Amoruso of Florios
It is with great sadness that I have learned that Larry Amoruso, owner of New York's Florio's Restaurant and Three Little Indians Cigars has passed away.
I learned this information from a friend a little while ago and was able to confirm this on Florio's Hollywood (Florida) Facebook page that Larry had indeed passed away.
For those who don't know, Larry owned Florio's Restaurant and Three Little Indians Cigars. He was the owner of my Cigar Club when I was located in the New York area. Located at Mulberry and Grand in the heart of Little Italy, this place epitomized what Little Italy was all about.
Larry had a passion for life as great as anyone. His love of country was second to none. When military people would visit his place, Larry would roll out the red carpet and treat them like gold. The cigar lounge upstairs from Florios was decorated with lots of military paraphernalia.
Larry also did battle against the Pleasure Police. He was a huge defender for the right to enjoy a cigar. Many times he went toe to toe with the City of New York to fight for these rights. Watching him in action was always a joy.
I started going to Florios back in 2006 with a friend of mine who was a cigar enthusiast. We eventually became members of the cigar lounge upstairs. I originally joined the club just enjoying the cigar scene, but actually would never smoke a cigar. Eventually, I became hooked. Larry always treated me first class. In fact, many times when I couldn't get back to my office, he would open the club, let me connect to his wireless, and I would work up in the club – several hours before it actually opened. Larry got me started with cigars – the Florios barber-pole is still one of my favorites. Even after I relocated to North Carolina, Larry always welcomed me back in and continued to allow me use of the club.
If you remember the "Welcome Back Kotter" lyrics – "we tease him a lot, because we got him on the spot" – that was Larry!
I cannot begin to express the sadness that I feel right now. I want to think of a longer term tribute to Larry in the upcoming weeks on Cigar Coop. My prayers and thoughts are with his family right now.
Update (4/11/11): Click here for my longer tribute – my return to Florios.