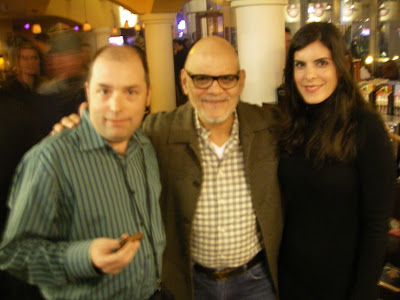 Cigar Coop (L), Ernesto Perez-Carrillo (C), Lissette Perez-Carrillo (R)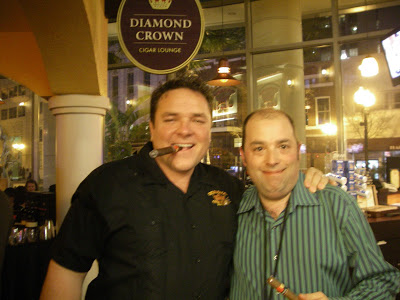 Jeff Borysiewicz (L), Cigar Coop (R)
The past 24 hours have been a whirlwind to say the least. Tonight I attended the E.P. Carrillo Cigars event at Corona Cigar Company in downtown Orlando. It was an evening where I got to meet and talk to two true cigar-ebrities and heroes of mine: Ernesto Perez-Carrillo, the legendary cigar-maker; and Jeff Borysiewicz, owner of Corona Cigar Company.
Ernesto is famous for creating one of the great brands in the cigar business – La Gloria Cubana. As many know, after General Cigars acquired La Gloria Cubana, Ernesto stayed on for a while before launching his own family business – E.P. Carrillo Cigars. The quality of the sticks are there – his Short Run was my #15 Cigar for 2010, (a great ranking for a year that I consider an all-time year for cigars) and his E.P. Carrillo Elencos Edicion Limitada 2010 ranked #8 on Cigar Aficionado's 2010 list. I had a great conversation with Ernesto on cigars in general. I also got to meet Ernesto's daughter Lissette – who also knows the business very well.
Jeff Borysiewicz, owner of Corona Cigar Company is a guy who I have always wanted to meet. I had visited his Sand Lake drive store several timea, but this was my first visit to downtown – and the first time I got to meet Jeff. Not only does Jeff have an outstanding franchise, but he is one of the true champions of Cigar Rights. If you are a Cigar Enthusiast, you need to thank Jeff for the hard work he has done to protect our rights. On a busy night, I was very appreciative that Jeff took time to talk to me – and even found out he's read a couple of things on Cigar Coop! Jeff knows this industry and he understands tobacco legislation. He's one of the hardest working guys in the business.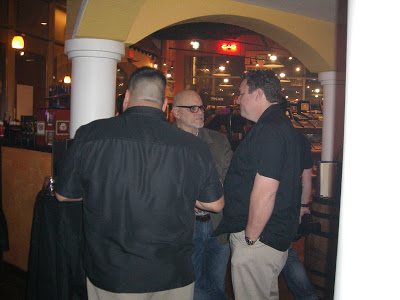 Ernesto Perez Carrillo and Jeff Borysiewicz
The conversations were great – and of course, so were the sticks. Perhaps the most special moment is when Ernesto said to me, "I have something for you…." I couldn't imagine what it was. He comes back to me and hands me the "soon to be released E.P. Carrillo Maduro". I was blown away!!! Thanks guys!!!!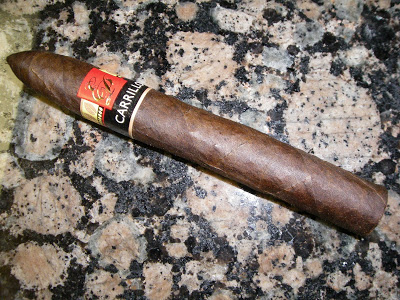 E.P. Carrillo Maduro – coming soon!
Got this message this morning on Twitter from Ernesto. This was a nice surprise as the only thing I put out was a link to this post.