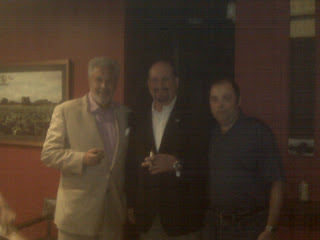 Cigar Coop with Bill Paley (L) and Glynn Loope (C)
Readers of Cigar Coop have heard me rave about La Palina Cigars. I rated two of his sticks in the Top 10 – including one at Number 5 and one at Number 7. Today Bill Paley was a guest on Fox News and did a terrific interview. I met Bill back in October in Roanoke. I was touched by his story, his brand, and him as a person.
The story behind La Palina is terrific. A nice little tidbit revealed is that Bill is looking at a lower priced stick to add to the line. The interview is terrific and Bill gives some great insights on Fox about business as well. Bill discusses his commitment to supporting the Cigar retailers as well. Finally, it also was nice to see the media not "Anti-Smoking". Way to go Fox News!!!
I believe in Bill Paley and his brand. I wish him nothing but the best as he continues to grow his line.
Enjoy this interview – please click here.