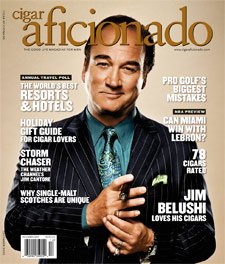 Yesterday, I was actually pleased with the way Cigar Aficionado started their Top 10 list with the selections that were made. Today, for the most part (with the exception of one surprise), I feel Cigar Aficionado regressed to the same old stuff.
If you remember, there have been three primary reasons that I am critical of this list.
1. I don't think you can rate Cuban Cigars when the majority of your readership has no legal access to these sticks. Cigar Aficionado does this.
2. I don't think rating a new Vitola for an existing blend is something that should be done. I did a separate "New Vitola of the Year"
3. My perception of the list is that the Indie Cigars have not been given due justice when the cigar selections have been made.
It is reason #2 that is giving me the most fits with the selections that were made here. These are all fine cigars, but in all honesty, there isn't a lot that says "2010" on these selections (in one case, I'm not sure 2009 or 2008 are said either)
The selections were listed below and you can click on the Cigar Aficionado Web-Site link here. The below are opinions of Cigar Coop and Cigar Coop alone.
Rank
Cigar
Thoughts

2

Viaje Oro Reserva VOR No. 5
This is a selection I am pleased with. If you haven't tried Viaje, be sure to try it. This is also a very good stick. And if you think this cigar is good, check out the Viaje Satori – it is even BETTER and was my 2010 #3 Cigar of the Year. For those in Charlotte, Outland Cigars carries this stick.

I'm pleased to see an Indie Cigar finally get recognition from Cigar Aficionado and Viaje represents a great Indie brand. This is great news for Viaje to get exposure on the Cigar Aficionado list.

3

Opus X XXX Belicoso.
While an Opus X cigar never disappoints, I would ask a simple question – why is this cigar on the list? This is not to bash the cigar, but not only is this not a new cigar, it is not a new vitola for 2010.

4

Padron Family Reserve No. 45 (Natural)
Another question – why is this cigar on the list? Yes, nobody is questioning the quality of this stick. Both the Natural and Maduro were released last year around the same time. So the Natural wasn't good enough for a Top 5 last year, but suddenly is good enough this year.

5

Camacho Corojo Churchill
Not only is this not a 2010 cigar. It's not a 2009 or a 2008. I believe this goes back to 2007 and it could be further back. No knock on the stick, it's solid – but just doesn't belong on a 2010 list.