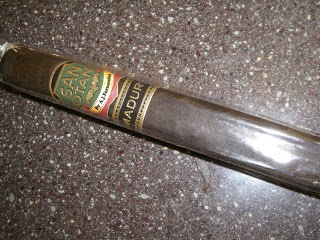 After one month of "30 Cigars in 31 Days", it is time to get back to the business of Cigar Reviews on Cigar Coop. The first review of 2011 will be a stick that I ranked #12 on my Top 30 Cigars for 2010 – the San Lotano Maduro.
If you have been following Cigar Coop, you know I am high on A.J. Fernandez He is around the age of 30, but has had a big impact on blending for the past few years. He has been involved with blending for Diesel, Man o War, and Esteban Carrera's – and if you are familiar with those brands, you know the quality. Now A.J. has ventured out and formed his own brand. He has chosen to bring back an old line introduced by his grandfather in Cuba – called the San Lotano. I'm big on the San Lotano line – I predict this will become a household name in retail stores in 2011.
The San Lotano is available in three blends, each with a new wrapper. I'm going to post all three here, but right now I'm going to focus on the Maduro blend – which is the only box-press of the three blends. I have already included information on the San Lotano Habano (an Honorable mention on my 2010 Top 30 list) and San Lotano Connecticut (ranked #8 for 2010 for my Top 30 Cigars)
Maduro Blend:
Wrapper: Mexican grown Maduro
Binder: Honduran
Filler: Dominican, Honduran, and Nicaraguan
Connecticut Blend:
Wrapper: Ecuadorian grown Connecticut
Binder: Honduran
Filler: Dominican, Honduran, and Nicaraguan
Habano Blend:
Wrapper: Brazilian grown Habano
Binder: Honduran
Filler: Dominican, Honduran, and Nicaraguan
The sizes are listed below. Note the Maduro blend is a classic Cuban Box Press:
• Churchill: 7 x 52
• Robusto: 5 x 52
• Toro: 6 x 52
• Torpedo: 6 1/2 x 52
I particularly liked this blend. For the wrapper, Fernandez selected a beautiful Mexican Maduro wrapper. For the remainder of the construction, Fernandez opts for a Honduran binder and the "trifecta blend" for the filler (Honduran, Dominican, and Nicaraguan).
For the purposes of this review, I put a straight cut into the Maduro Toro, toasted the foot and away I went. The initial flavor notes were interesting – a combination of molasses and pepper. The pepper was pretty consistent from what I have seen from the Connecticut and Habano sticks, and since their were similarities with the blends it makes sense. About 20 percent into the stick I detected notes of espresso coffee. Meanwhile the molasses flavors began to transition sweeter, first into notes of a raisin sweetness, and then more to what I would term a natural maduro sweetness by the midway point. The pepper notes come and go throughout the smoke – at times they were stronger than other times. Around the 2/3 mark, I noted a return to the coffee tones along with notes of chocolate. This was the flavor profile that took the smoke home. As with all of the San Lotano sticks, I got nice flavors right to the nub. Excellent burn and draw on this stick. The strength is not overpowering – definitely a medium for this range. I'd put the body of this cigar in the medium to full range.
As I mentioned with the Connecticut review, the commitment for now is for the San Lotano line to be carried in retail shops only. I haven't seen them in too many retail shops yet, so I hope they take advantage of this opportunity before the mail-order houses jump on this cigar. This cigar is everything a Maduro box-press should be. This is definitely worth checking out.
Burn: Excellent
Draw: Excellent
Strength: Medium
Body: Medium to Full
Assessment: Memorable