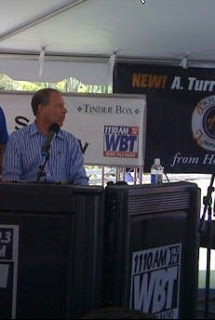 Colucci on the Cigar Dave Show
In an announcement that started making its way at the ProCigar Festival in the Dominican Republic, Jim Colucci of Altadis USA is retiring. This will be effective on July 31, 2011. Colucci was Altadis USA's Executive Vice President of Sales and Marketing.
A memo was circulated by Altadis USA President and CEO Gary Ellis confirming the announcement.
Jim spent 34 of the past 37 years with Altadis and its predecessor company, Consolidated Cigars. In his role Colucci oversaw the sales and marketing plans for the many brands owned by Altadis U.S.A – one of the largest manufacturer of cigars in the world. There is no doubt a void has been created losing someone of Jim's knowledge. There is a good bio of Jim in a post on Cigar Weekly – it is worth checking out.
It will be interesting to see what happens with Altadis and what direction they go in to fill Jim's spot.