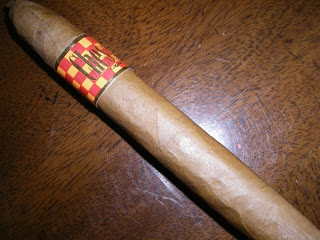 The Chess Cigar Natural is made by a boutique Cigar Company based in Norway called Chess Cigars. I came across these guys at IPCPR and met their company President – a guy who goes by the name of "Hawk". Hawk was an extremely nice guy who was incredibly passionate about his product. He believed in what he sold and was kind enough to provide me with some samples of the various lines. The Chess Cigar Natural is the first of these samples I am trying. Typically I look for something different and exciting around an Indie Cigar. While this was not a bad cigar, ultimately I think I was looking for a little more here.
Much of Chess Cigars' is their marketing. They package and market their product very nicely. Obviously they market their "Chess" line around the game of Chess. They even do a lot of nice things such as make Chess-box humidors (I did not get a picture of this, but it was beautiful).
Ultimately, my first point is to get beyond the marketing and look at the blend. I must say from my research, the composition was intriguing. It is worth noting that this wrapper was extremely smooth and made for a nice looking cigar in terms of appearance.
Wrapper: Ecuadorian
Binder: Dominican
Filler: Piloto Cubana (assuming Dominican), Olor Dominicano, Mata Fina (assuming Brazilian)
The Chess Natural is available in several vitolas. The chess game marketing plays a key role on each of these names. In fact on the web-site, it says "This 6 cigars (sizes) represent the 6 white pieces in the game of Chess" (Note: some of the English translation is off on this web-site).
King (Double Corona): 7 5/8 x 52
Queen (Torpedo):6.5 x 52
Rook (Sublimes): 6.5 x 60
Bishop (Small Sublimes): 5.5 x 60
Knight (Robusto): 4.5 x 54
Pawn (Petit Robusto): 4.0 x 54
For this review, I sampled the Queen which was a Torpedo. Therefore, I went with a traditional straight cut and then began my cigar experience.
The cigar did provide some decent complexity. It did start with a black pepper start. It didn't have what I would term a "Pepin-like" pepper blast, but it did have some black pepper. I then began to pick up notes of black cherry sweetness. As the cigar progresses, the cherry notes began to diminish in body. As I approached past the 1/3 point, I definitely noticed notes of wood with what notes of cherry remained. In the second half, I noticed more of a cinnamon-like sweetness along the way.
From a burn and draw standpoint, they were not bad. This definitely was not a cheaply-made cigar. I'd still hesitate about going with excellent for both of these categories. Overall, this is not a strong cigar in terms of punch – definitely in the mild to medium range. Except for the part of the smoke around the 1/3 point where the flavor notes mellowed out, I'd categorize the body as a medium.
From what I remember talking to Hawk, these cigars would be priced higher than what I consider the magical "value price" range for a cigar – namely the $5.00 – $7.00 range. That price range hurts this cigar a bit. Still while not a bad cigar, ultimately I'm not sure other than an interesting composition what uniqueness this Indie cigar brings to the table. This is one I recommend you still try and make your own judgment on.
Burn: Good
Draw: Good
Strength: Mild to Medium
Body: Medium
Complexity: Medium
Assessment: See What You Think