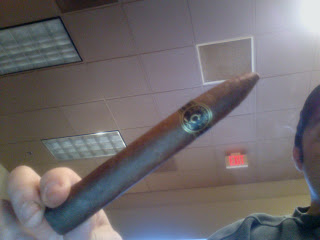 In my previous review, I mentioned that a group of us got together for a Smoker's Roundtable and smoked the Illusione 2 and Crowned of Thorns. This was a cigar I had not had before. Well for the second smoke of the roundtable, I was treated to another cigar I had not had – the Camacho Coyolar. This cigar was billed as a powerhouse smoke – one that was a very strong cigar that would knock you on your butt. However, while I did really enjoy this cigar, I don't think this is even the strongest cigar that Camacho blends (the Triple Maduro still holds that category). More importantly, after smoking the Camacho, I suddenly realized that smoking any Camacho was providing the ultimate tribute for a man who passed away this week – the great Sal Fontana. Even though I don't believe the Coyolar was not his work, it was still fitting to light up any Camacho this week.
First up this is not a new blend, the Coyolar has been around for several years. The Coyolar is not the most fancy cigar from looking at it. It is pretty no frills with its black band and a Colorado-colored wrapper that isn't flashy. However there was something pretty distinguishing about the Coyolar when it comes to the blend – this is a Honduran Puro – meaning 100% Honduran throughout the blend. After sitting back and reflecting, I don't think I can remember the last time I had a Honduran Puro. Kudos for my buddy Stace again for doing some great research on this cigar prior to our roundtable.
Wrapper: Honduran
Binder: Honduran
Filler: Honduran
The Coyolar comes in 5 vitolas:

Figuardo: 6 x 54
Perfecto #1: 4 1/2 x 50
Rothschild: 4 1/2 x 50
Super Toro: 6 1/2 x 52
Titan: 6 x 60
While I would have loved to have tried this in the Titan size, the size made available for the roundtable was the Figuardo. I therefore placed a nice straight cut into the Figuardo, took my butane lighter and toasted the foot, and was preparing for a very powerful smoking experience.
As for the flavor profile, the cigar started out with a very old school oak taste. There were some hints of black pepper and coffee, but the oak was still the dominant note. The flavor notes had pretty much a medium body and even from a strength (nicotine) standpoint, this cigar was also holding in the medium category. This surprised me (and the others) because we thought we would be taking an Apollo Creed onslaught early on.
About 20 percent of the way into the smoke, there was some notes of leather that complemented the oak notes very nicely. It was just before the 1/3 point, where I got a stronger blast of black pepper. These were the strongest notes in terms of depth and body I had tasted in the cigar since the initial draws I took. This pepper blast was almost "Pepin-like", but it didn't last long. After a little over a minute, the cigar went right back to the oak and leather notes that I had earlier. From a strength profile, this was still holding a medium.
Around the 40 percent mark, I did notice an increase in the strength/nicotine this cigar was giving way. I estimate this was well into the Medium to Full range in terms of strength. Still it wasn't kicking my butt and it was nowhere near powerhouse cigars like the LFD Chisel or Camacho Triple Maduro. Around 1/2 way into the cigar, I noticed a return of the coffee notes. The combination of coffee, leather, oak, and a hint of black pepper would now be the way this cigar would smoke in the second half. In the last third, I did detect some bitter notes. I do believe I got some hot burning of the fillers toward the end. While the cigar did finish soft, it wasn't as hot a finish as I would have thought – considering some of the harshness I had in the last third.
The burn rate of this cigar was just about right – not too fast and not too slow. As mentioned above, I do think it burned hotter in the core of the cigar in the last third, but overall it was a good burn (there were a few touch-ups I had to make along the way). The draw was excellent on this cigar – not a cigar that required a lot of effort to smoke.
It is really in body and strength that tells the story of this cigar – and this cigar is a textbook case for the difference between the two. With the flavor notes not overwhelming in terms of depth, there is no way I can classify this as a full-bodied smoke. This cigar is medium and the only way it would have been fuller is if I got more robust flavors during this smoke. From a strength standpoint, as I mentioned it did go from Medium Strength to Medium to Full. I still classify this overall as Medium to Full – meaning I felt some nicotine a bit, but it didn't floor me.
Overall, I did like this cigar – even though it gave me some bitter notes toward the end. If it wasn't advertised to me as a powerhouse, I would have liked it more. Believe me, I've had cigars knock me on my butt – and this isn't one of them. I particularly liked a lot of the old school flavors of oak, coffee, and leather. If this is a cigar you've overlooked in your humidor, you might want to check it out.
Burn: Good
Draw: Excellent
Strength: Medium to Full (more medium earlier on, stronger later)
Body: Medium
Assessment: Nice to Have
Disclaimer: This cigar was provided to myself from Outland Cigars as part of their taster's roundtable. While I participated on the review of this cigar, this is a rotating position and I am only involved as an invited participant and nothing more.