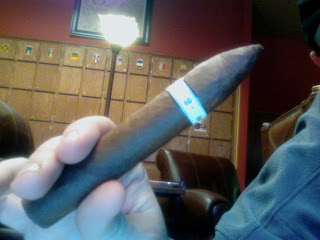 Over the past few years, Dion Giolito's Illusione line has built a core following very similar to what Pete Johnson has done at Tatuaje. Much of the Illusione line is released in small batches, but not to the point where it is very difficult to find most of the blends. I must admit, I have not smoked a lot of Illusione cigars even though they have been accessible in my neck of the woods. When a group of us got together on a Saturday morning to smoke the "Illusione 2 – And Crowned of Thorns", I was still pretty excited as I had wanted to try this cigar for sometime. I figured with my notes and thoughts fresh in my mind, it would be worthwhile to post a review of the cigar here.
First up, I must thank my good friend Stace for doing some good research on this cigar. He provided some good notes and background on the cigar and Illusione. The name "2 And Crowned of Thorns" has an simple meaning described on the Illusione web-site as: "No explanation here is really needed. 2 is the son of God doing battle against evil, the enlightened one, the soul-saver, all forgiving." Dion does seem to have a fascination with numbers (I hesitate to use the world numerology because I don't think that is applicable here) and his web-site does a terrific job at describing the meanings of numbers that lend themselves to the names of his cigars.
The Illusione 2 itself is only available in 5 1/2 x 52 Belicoso with a beautiful Rosado wrapper: The composition of the cigar is as follows:
Wrapper: Nicaraguan Rosado Oscuro Corojo
Binder: Nicaraguan
Filler: Nicaraguan
For this Belicoso, I put a straight up into the tip. I'm not one to do any pre-lighting rituals, but in this case I did do a pre-light draw and got some hints of chocolate and cinnamon. I then toasted the foot and began to partake in the smoking experience.
On the initial draws, I got a combination of tartness and pepper notes. Shortly afterwords, I detected a bit of cherry sweetness and noticed the pepper notes taking on more of a cayenne pepper flavor. The cayenne pepper starts to increase until the cigar reaches the 20% mark. During this time, the cayenne pepper is not overwhelming, but provides just the right amount of spice. It is around the 20% mark where I notice a decrease in the pepper, and it is are notes of leather that are not going to take center-stage. It is from this point on where there pepper and leather notes take turns alternating in what is the dominant flavor for the remainder of the smoke. While the cayenne pepper notes come and go, it never reaches what I would term "heavy spice". The cigar finished smoothly, a little soft, but not hot in terms of burn.
In terms of the burn, this cigar had an excellent burn and really required no touch-ups. It produced a terrific white ash (although my fellow smokers had more of a gray ash). The only negative in terms of burn was that this cigar burned pretty quickly.
The draw was excellent on this cigar, it required no work whatsoever. As I puffed on this cigar, it produced a large quantity of smoke. I considered this a positive as well as I like a cigar that does this.
In terms of strength, I'd categorize this as a medium. It's probably still a little stronger than a "morning smoke" like we had would be. In terms of body, I also categorize this as a medium. This is the one area where I would have liked to see a little more depth in terms of flavor notes. A medium to full for this smoke would have been perfect.
Overall, this was a positive experience I had with an Illusione. I do think the price point is a little high for this cigar, but given that Dion's sticks are sought after – I can understand it.
Burn: Excellent
Draw: Excellent
Strength: Medium
Body: Medium
Assessment: Nice to Have
Disclaimer: This cigar was provided to myself from Outland Cigars as part of their taster's roundtable. While I participated on the review of this cigar, this is a rotating position and I am only involved as an invited participant and nothing more.