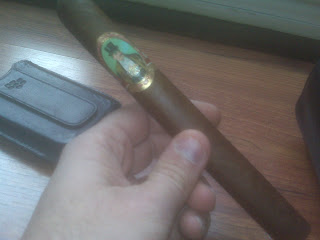 The Hoffman House is a house cigar available from Iwan Ries and Company in Chicago, Illinois. Iwan Ries has become one of my favorite stops when I visit the Windy City. They have a terrific cigar lounge and a great humidor. I've always been treated very well by proprietor Kevin Levi. About a year ago, Kevin introduced me to the Hoffman House cigar, Iwan Ries' house cigar. It was at that point that I became hooked.
The Hoffman House gets its name from Iwan Ries' founder Edward Hoffman. Hoffman was a Chicago Tobacconist. In 1861 he blended the cigar. In 1898, Hoffman sold the brand to a larger manufacturer. According to the web-site, the brand flourished through the 1920s. Eventually the brand faded and just about vanished. It was in 2006, that Iwan Ries resurrected the cigar and it has become a staple of the store ever since.
The cigar has a very interesting blend. Here is a closer look at the composition:
Wrapper: Ecuadorian Sun-grown
Binder: Dominican
Filler: Nicaraguan, Peruvian
In particular, I've been intrigued by Peruvian fillers. I've found when this type of tobacco has been used, the end product is usually very good. I've seen this with the El Primer de Mundo and Guillermo Leon Signature series – and both have been very good cigars.
The Hoffman House is available in four vitolas:
Churchill: 50 x 7
Lonsdale: 44 x 6 5/8
Robusto: 50 x 5
Short Perfecto: 46 x 4 1/4
For this cigar experience, I opted to go with the Churchill. I put a straight cut into this cigar. Normally, I toast with a butane lighter but because I traveled by plane, I was without my lighter so I used the house matches. However, I had no issues toasting the cigar and therefore I was prepared to have my cigar experience.
I would not categorize this as a very complex cigar, but this is a cigar that still has some very good flavor notes. The initial flavors from the cigar are a combination of leather, coffee, and faint pepper. It doesn't take long before some cream notes eventually diminish what pepper notes I was still getting. Around 20% into the cigar, a cocoa flavor begins to emerge. This cocoa flavor will push out the leather flavor. The cocoa and cream flavors will dominate this smoke, but toward the final third, the pepper notes return.
The Hoffman Cigar was a well constructed cigar. There were a couple of times where the draw was a little tight, but overall I'd still classify this as good. The burn was razor sharp and even though I lit this up with matches, it did not require any touch-ups. The burn was not overwhelmingly hot and the cigar finishes cool (although it was a little soft toward the end).
This cigar does have some kick throughout. I definitely put this in the medium to full strength. The depth of the flavor notes are solid – also putting the body in the medium to full category.
Overall, this was a very good cigar. If you are in Chicago, I'd recommend not only stopping by the good folks at Iwan Ries, but also trying this cigar in their terrific lounge.
Burn: Excellent
Draw: Good
Complexity: Low
Strength: Medium to Full
Body: Medium to Full
Assessment: Nice to Have
Note: You can also order the Hoffman House online from Iwan Ries by clicking here.


Store Information:
19 S. Wabash Ave.
2nd Floor
Chicago, IL 60603
Phone: (800) 621-1457