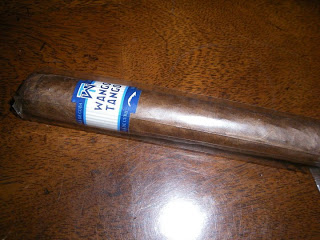 No I'm not going to be reviewing the classic Ted Nugent tune, I'm going to review a cigar – yes folks this is the Wango Tango cigar. I would categorize the Wango Tango as an "value-priced Indie" cigar. After smoking the cigar, I'm still a bit indifferent to what my final verdict is. If I were to take price out of the equation, I'm not sure I'd love this cigar. However since the cigar is relatively inexpensive (easily can find this stick for $5.00 or less), I was surprised about what you are getting for the money.
A little background on the Wango Tango. This is an Indie cigar produced by a Tampa, Florida based company called "Isla de Cuba". The cigar was introduced back in 2008. The Isla de Cuba line is manufactured by Altadis. I've smoked other sticks in the line. These sticks are also value-priced cigars, and I've had positive experiences.
First up, let's take a closer look at the composition of the blend:
Wrapper: Connecticut Broadleaf
Binder: Connecticut Broadleaf
Filler: From four countries (proprietary)
The idea of a Connecticut Broadleaf for both the wrapper and binder did intrigue me. It makes for a very attractive looking cigar. The band at first appeared a little cheezy, but eventually I caught on to it. I was disappointed that I could not find out the origins of the filler. While I don't mind proprietary, I do like to know the origins.
I would not categorize the Wango Tango as a very complex cigar, but it was an interesting smoke. Upon the initial draws of the cigar, I was treated to a salt blast that almost reminded me of San Vincente tobacco from Nicaragua. I'm not sophisticated enough to map tobaccos yet, but all I can say is that it reminded me of San Vincente. The cigar quickly settled with a coffee flavor. About 1/3 of the way, a pepper and spice flavor emerged. The pepper/spice would peak close to about 1/2 way into the cigar, and then diminish a little. I've read some reviews where the pepper and spice completely faded, but this was not the case with my experience. In the end, there was some harshness. The finish to my cigar was hot (although the nub was firm), thus resulting in the harshness.
Overall, I found the burn to be good. The draw gave me some problems at various points. There were times I had to work the draw a little harder than I liked. There were other times, when the draw was not difficult too. As for strength and body – this is medium/medium. Some folks had this as medium-full on both ends, but I don't think the flavor notes or nicotine levels were quite in that range.
I assess a cigar independent of price. However, I did put the caveat above that given this is an inexpensive cigar, it is probably worth checking out. For under $5.00, you are going to get a pretty good stick.
Burn: Good
Draw: Fair
Strength: Medium
Body: Medium
Assessment: See What You Think