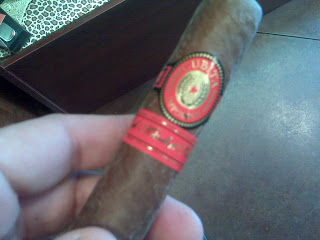 A lot of times, I like to uncover a cigar that might be buried deep in a retail humidor hoping to find the gem. My buddy Scott found one of these cigars, a Cubita Spanish Market Selection and asked me if I had smoked one. My response was "No". Therefore we used the opportunity to sample this Matasa cigar. While I had seen good reviews on this cigar, I can honestly say that my buddy and I did not share the same position. While this cigar squarely falls into the value-priced range (approximately $5.00 per cigar depending on retailer, tax, etc), this is one of those cigars that did not wow us.
A lot of times, when I don't have a good cigar experience, I also defer to having multiple smokes and simultaneously smoking it with someone else. Without further adieu, let's get into the particulars of this cigar.
Blend Profile
I had a tough time researching this cigar's blend. If you do a google on this cigar, you will see various differences in the blend. I decided to go ahead and go to "the source" – Perelman's 2011 Cigar Cyclopedia. Therefore, here is what they say:
Wrapper: Honduran Habano
Binder: Dominican Olor
Filler: Dominican Piloto, Nicaraguan Ligero
Vitolas Available
This cigar is available in four vitolas:
Churchill:7.25 x 50
Toro: 6 x 50
Robusto: 5.25 x 52
Perfecto: 5 x 52
Preparation for the Cigar Experience
For this cigar experience, I selected the Robusto size I went with the straight cut for this cigar experience. The prelight draw was uneventful – pretty leathery. It was then on to toast the foot and see if I could get more out of this cigar.
Flavor Profile
The flavor notes right out of the gate were not impressive. There was a lot of salt in the forefront. While it is not unusual to get a salt blast, it usually will dissipate and transition to something different. For the majority of this cigar experience, the salt tones seem to be omnipresent. I also detected acidic notes in the background as well. The disclaimer here is that whenever I have had this cigar, I have not had any foods that could have interfered with the taste.
As the cigar goes into the first third, the salt is still there, but things are promising. I detected a little coffee, a little leather, and some nutmeg spices. Yet despite these three positive notes, the salt would not go away. There was a point about halfway through the cigar where the salt finally seemed to go away. My buddy noticed this as well. Then a few minutes later, the salt returns and stays for the majority of the cigar. I did get a decent nub – it was soft, and not too hot. Overall, just not a cigar that had any flavors to have me doing handstands.
Burn and Draw
The burn wasn't horrible on this cigar. It was definitely good. I had to make multiple touch-ups, but overall it did not burn very hot or at a furious pace. The draw really required a lot of work and it was tight for a good chunk of the cigar experience.
Strength and Body
The flavor notes of this cigar were definitely on the low end of "medium to full" in terms of body. I can attribute a lot of that to the amount of salt this cigar threw at me. The Cubita Spanish Market Selection is one of those cigars that will creep on you and hit you later in terms of strength. No doubt this is full strength when it comes to nicotine.
Final Thoughts
Being this is a Matasa cigar and it is made by Manuel Queada, I wanted so bad to like this cigar. I just couldn't do it. Even at the low price point, there are so many other good cigars with more flavor and more smoothness than this one. Right now this is a cigar I will pass on. However, as always the case when I pass on a cigar, I'm always willing to give it a second change and re-assess it.
Summary
Burn: Good
Draw: Fair
Complexity: Low
Strength: Full
Body: Medium to Full
Assessment: Pass
Disclaimer: This cigar was gifted to me from a friend in the spirit of friendship.