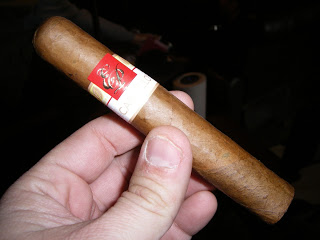 The E.P. Carrillo New Wave Connecticut marks the beginning of the expansion of the E.P. Carrillo line. This introduces a Connecticut Shade wrapper cigar into the E.P. Carrillo portfolio. One of the challenges of any Connecticut Shade cigar is finding a good balance of flavor against what typically is a mild strength smoke. The E.P. Carrillo New Wave came with a lot of promises of good flavors. The good news is this cigar lives up to its promise and more – even to someone like me who normally gravitates toward a full bodied smoke.
One of the big changes from a branding standpoint. You can see the traditional EPC black background on the band has been replaced with white. Gold lettering now spells out the Carrillo name. I was a huge fan of the traditional band, but I love the white band – it gives the cigar an identity, and shows the brand is not one dimensional.
Blend Profile
For this blend, tobaccos have been taken from three countries:
Wrapper: Ecuadorian Connecticut Shade
Binder: Nicaraguan
Filler: Dominican, Nicaraguan
Vitolas Available
Brillantes: 5 x 50
Divinos: 6 x 52
Gran Via: 7 x 49
Stellas: 5 1/8 x 42
Preparation for the Cigar Experience
For this cigar experience, I selected the Robusto size 5 x 50 Brillantes vitola. I opted to place a punch into the cap of this cigar. The prelight draw was dominated with cream notes. I also detected some hints of wood and pepper. It was then immediately on to toasting the foot and preparing to enjoy this cigar.
Flavor Profile
A lot of people might accuse me of describing a good meal or dessert when reviewing a cigar, but a lot of times we do look to come up with the non-repetitive adjectives. In all cases, I try to be very objective and map flavor notes to something meaningful and accurate.
Right out of the gate, the cream notes take center-stage. This cream notes were a wonderful mix of butter and cream. About 5 percent into the smoke, sweetness definitely emerges. I've tasted berry notes on cigars before, but this one actually reminded me of strawberries. Combine this with the cream notes earlier on and you will understand why I put the food analogy disclaimer above. However, all I can say is that this was definitely the case! These were some of the most interesting flavor notes I ever got from a cigar!
Around 1/3 into the cigar experience, some of the wood notes I detected on the prelight draw begin emerge. Around the 1/2 way point of the smoke, a cedar spice begins to emerge and the sweet berry and cream notes begin to diminish. As the cigar reaches the last third, the spice definitely increases. I also detected hints of coffee in the background. It is at this point the berry sweetness and much of the cream had dissipated.
When I approached the nub, the spice also subsided and a lot of the buttery cream notes early moved back to the forefront. I was able to get an incredible nub on this cigar (see photos below). The nub was cool and firm. Overall, this cigar really had more complexity than the average Connecticut Shade wrapper cigar.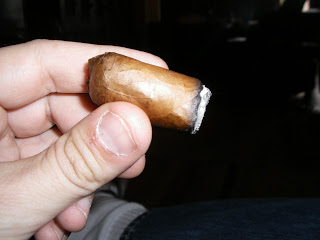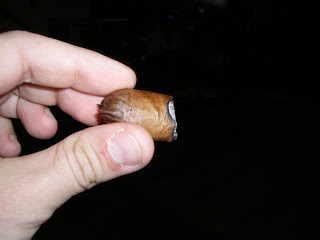 A final note on the flavors. This was a cigar definitely worth taking some flavor notes through the nose. Throughout the smoke, I loved the hints of red pepper spice going through my nose.
Burn and Draw
Ernesto Perez-Carrillo is recognized as one of the best in the business. This goes back to his days with La Gloria Cubana. It's great to know that as he expands his line, there have been no sacrifices with quality. Perfect scores for draw and burn. I had to do a single touch-up for this whole cigar experience. The cigar burned at a perfect rate and temperature. This is indicative by the fantastic nub I got.
Strength and Body
No doubt about it – this was a mild smoke. If you are looking for strength, it won't be here. However, this cigar does not need any strength as it has very pronounced flavor notes. I'm giving this cigar a medium in terms of body because of the incredible flavor notes. It provides just enough flavor to be in that "medium body" range.
Final Thoughts
The best part about this cigar – it can appeal to a wide variety of people. This cigar would make a wonderful introductory cigar for a new enthusiast. However, I think more seasoned cigar enthusiasts; even if they prefer something more full in strength can enjoy this cigar. This will make a great morning smoke for just about anyone. A person like me who prefers a more full strength cigar would not hesitate to buy this cigar again.
Summary
Burn: Excellent
Draw: Excellent
Complexity: High
Strength: Mild
Body: Medium
Assessment: Memorable
Disclaimer: This cigar was provided to myself from E.P. Carrillo. The request was initiated by E.P. Carrillo to myself (Cigar Coop) to provide an assessment. Cigar Coop is appreciative to samples provided but this plays no role in a final assessment rating.