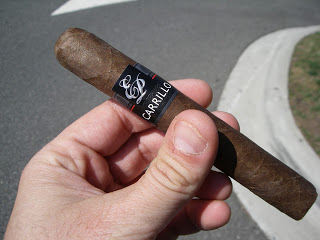 An interesting topic for debate around the cigar industry is how many companies are focusing way too much time around their "limited run" cigars at the expense of their core line.   In some cases, it has become an "Apple iPhone frenzy" of being the first to get one of these cigars.   Last year, E.P. Carrillo released a limited run cigar called the E.P. Carrillo Edicion Limitada 2010.   This cigar was actually ranked #8 on Cigar Aficionado's Top 10 list for 2010.   This cigar quickly became a favorite among cigar enthusiasts.   Therefore, it was great news when E.P. Carrillo announced they were moving this cigar as a part of their core line.   The cigar was rebranded the "E.P. Carrillo Elencos".  Not only is this good news for cigar enthusiasts, but it is great news from an industry perspective – namely finding creative ways to expand a core line.   Needless to say, the Elencos is a special cigar and is going to strengthen the E.P. Carrillo portfolio in 2011 and beyond.
There are four changes in terms of the packaging and marketing of this cigar:
1)  As mentioned above, the name has been changed from Limitada 2010 to Elencos.  This solidifies its identity in the core line.
2) These cigars will now be packaged 20 to a box as opposed to 10 in a box which is how the E.P. Carrillo Edicion Limitada 2010 was sold.
3) There is a new band with an all black background.   This new banding follows the new release E.P. Carrillo New Wave Connecticut which is using an all-white background – adding some variety to the line.
4) There are now 3 vitolas available.
Note: It is my understanding that these cigars will be still limited to 50,000 cigars annually, but the good news is that this cigar will be made annually.
E.P. Carrillo is quietly building one of the strongest cigar portfolios in the industry.  I must give a shout-out to my friend Tony for introducing me to EPC.  Tony's a huge fan going back to the La Gloria Cubana days.   When Ernesto Perez-Carrillo formed EPC, he had these guys on the radar – and they've delivered with every single cigar they released.
Now it's time to provide an assessment of the Elencos.
Blend Profile
For this blend, tobaccos have been taken from three countries  highlighted by the beautiful Brazilian wrapper.
Wrapper: Brazilian
Binder: Dominican
Filler: Nicaraguan
Vitolas Available
I love the fact that E.P. Carrillo gives each of the vitolas an identity as opposed to the generic names.
Acto Mayor (Torpedo): 6 1/4 x 52
Don Rubino (Robusto): 5 1/4 x 50
Elites (Toro): 6 x 54 – Original Edicion Limitada 2010 size
Preparation for the Cigar Experience
For this cigar experience, I selected the Robusto size 5 1/4 x 50 Don Rubino.  I wanted to try a different vitola as opposed to the Toro-sized ones I have in my humidor under the "Limitada 2010" umbrella.  I put a very thin cut just able to pop the brazilian wrapper cap off the cigar.  It was then on to my pre-light draw.  I first got some wood and coffee notes.   After a few additional pre-light draws, I detected some sweet cherry notes. This cigar was definitely solid on the dry draw, so it was on to toast the foot and enjoy the cigar experience.
Flavor Profile
On the initial draws of the cigar, I was thrown for a loop.  There was some pepper right out of the gate.  I wouldn't consider this a strong pepper blast, but just enough to balance some of the wood and to a lesser extent cherry sweetness I also detected.  The pepper and cherry fade pretty quickly and it  are the wood notes that take center-stage.  Sometimes I find wood notes to be flat, but not the case with Elencos.  I found these wood notes to be smooth and enjoyable.
Around the 1/3 point, the cigar begins to transition a bit.   Some subtle hints of pepper emerged again.  The sweetness re-emerges this time different than the cherry earlier.   I had a little trouble putting my finger on it, but eventually it emerged as a nice caramel.   The nice thing is that this isn't going to be an overly sweet caramel. As the smoke approached the midway point, the wood notes started to transition to coffee notes – similar to what I experienced on the prelight draw.  The middle of this smoke was really something special.
As I approached the nub, there were also some hints of cinnamon that emerged.   This cigar had a real nice finish.  The nub was a little soft, but it was cool and not harsh.  E.P. Carrillo cigars consistently deliver a great nub, and the Elencos is no exception.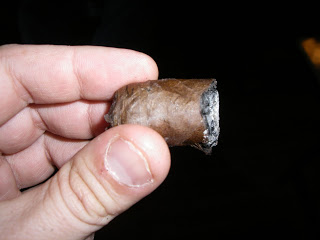 As for the taste profile, I loved this cigar's "old school taste" throughout the cigar.   Definitely the kind of smoke you want to enjoy in a smoke-filled cigar lounge!
Burn and Draw
I know it might sound like a broken record on this, but when you pick up an E.P. Carrillo cigar, you are going to get a cigar that burns and draws as it should.   This cigar experience I am describing did not need any touch-ups.  It burned at a perfect rate and temperature.   Outstanding draw as well.
Strength and Body
Most of this cigar experience, I can categorize the strength of the nicotine as medium to full.  Toward the last third, I would definitely say this has enough to fall into the full strength category.   As for the flavor notes – lots of depth and definitely a full-bodied smoke.
Final Thoughts
One thing I will say, this is a cigar that will probably be appreciated by a more experienced cigar enthusiast.  However, I will say this is a great cigar to "graduate" a newer person who might enjoy medium strength cigars into something stronger without overpowering them with nicotine.  This was great move by EPC moving a great blend into their core line and adding some new vitolas.   On top of that, EPC reduced the price to about $10.00 to $13.00 SRP – great news for cigar enthusiasts.  This is one I would buy again and recommend to others.
Summary
Burn: Excellent
Draw: Excellent
Complexity: Medium
Strength: Medium to Full (Full toward end)
Body: Full
Assessment: Memorable
Disclaimer:  This cigar was provided to myself from E.P. Carrillo. The request was initiated by E.P. Carrillo to myself (Cigar Coop) to provide an assessment. Cigar Coop is appreciative to samples provided but this plays no role in a final assessment rating.