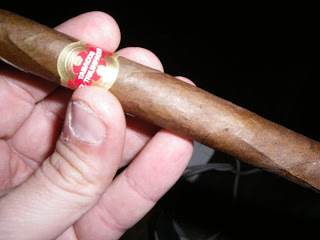 One piece of feedback I have gotten on this web-site is that I don't spend enough time talking about the Tatuaje line. To some extent, there is truth to this, but the only reason is I do not have a lot of access to much of the Tatuaje line in Charlotte, North Carolina area. Many cigar enthusiasts know full well that Tatuaje's Pete Johnson makes some of the best cigars in the marketplace. When I do travel outside of Charlotte, I do have more access to these cigars. One of the Tatuaje lines that has gotten a lot of positive exposure has been the El Triunfador line. Typically once I get a couple of smokes under my belt, I do find it appropriate to provide an assessment. Therefore, it's time to share my experience with El Truinfador. This blend is proof positive that Tatuaje makes some of the best cigars out there.
El Triunfador was the name of an old Cuban line of cigars. The brand name was resurrected by Johnson. A few years ago, Tatuaje released the first El Triunfador – a Connecticut Broadleaf Lancero. The line was then extended with an Ecuadorian Habano wrapper to seven vitolas (including a Habano Lancero version). The alliance with Pete Johnson and Don Pepin Garcia has probably been a lot of the reason for the success of the Tatuaje line. El Triunfador taps into the power of this alliance and delivers a terrific cigar.
Blend Profile
Here is a summary of the blend for this cigar:
Wrapper: Ecuadorian Habano
Binder: Nicaraguan
Filler: Nicaraguan
Vitolas Available
The Habano wrapper El Triunfador is available in seven vitolas. Each vitola is identified by a "number".
No. 1 (Lonsdale): 6 1/2 x 40
No. 2 (Belicoso Fino): 5 1/2 z 52
No. 3 (Gran Corona): 5 5/8 x 46
No. 4 ( Robusto): 5 x 48
No. 5 (Petitie Corona): 4 3/8 x 42
No. 6 (Lancero): 7 1/2 x 38
No. 7 (Toro Grande): 5 7/8 x 54
The original Connecticut Broadleaf El Triunfador is only available in the lancero size. Therefore, for this assessment, I opted to sample the No. 6 as I wanted to compare the Habano and Connecticut lanceros (I'll post the assessment of the Connecticut broadleaf in a future review). Like with any blend, the taste can differ from vitola to vitola so I probably will opt to assess another El Triunfador vitola in the future.
Preparation for the Cigar Experience
Normally with a lancero, I opt for a straight cut. Unfortunately I did not have my cutter with me. However I did have a punch, so that's what I used. On the prelight draw, I noticed an interesting sweetness. After a few dry draws, there was no question in my mind – this was a raisin-like sweetness. It was on to toast the foot of my El Triunfador and begin my cigar experience.
Flavor Profile
Upon my initial draws of the El Triunfador, I detected a combination of wood notes along with the notes similar to the raisin sweetness on the prelight draw. The interesting thing was that these notes got bolder as the smoke progressed. While the wood notes also got bolder, it was the raisin sweetness that definitely took hold. Around 33% into the smoke, cedar spice notes began to emerge. Around the midway point, the cedar spices did take on more of a pepper-like quality. Throughout the smoke, it almost seemed like the spice wanted to battle the raisin for the dominant flavor note, but the raisin flavors held the edge for the majority of the smoke. Overall, I did not find this a very complex cigar in terms of flavor transitions. As I approached the end of the smoke, it had a very pleasant finish. I got nice cool nub, but a little on the soft side.
Burn and Draw
The Pepin-Johnson connection is never a disappointment when it comes to construction. This smoke burned flawlessly. I lit it once and did not need to touch it up. It burned at a good rate and temperature. The draw was flawless as well – a very enjoyable cigar to work with.
Strength and Body
From a strength profile, this cigar will not knock you out – its a solid medium in this category. The body is bold on this cigar. This cigar progresses from the medium to full range directly into the full-bodied range by the midway point of this cigar. A great example of a cigar with deep flavor notes and not overwhelming in terms of nicotine.
Final Thoughts
What this cigar lacked in complexity made up for in flavor. I also think for this particular blend, the lancero works very well. I'm not a lancero fan, but I did enjoy this one. I would not hesitate to purchase this cigar in this vitola again, and I most certainly would recommend it to others.
Summary
Burn: Excellent
Draw: Excellent
Complexity: Low
Strength: Medium
Body: Full (Medium to Full at Start)
Assessment: Nice to Have
Disclaimer: The cigar experience described in this assessment was purchased at Cigar Vault in Staten Island, New York.