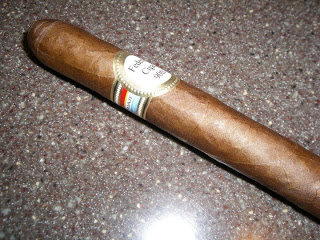 I've been throwing around an expression in my last three cigar reviews – "build a core line and they will come". But in reality, when it comes to Tatuaje it really is "release a limited cigar and they will come". Tatuaje has always caught the attention of cigar enthusiasts with their retail only exclusive cigars. The Tatuaje Anarchy was released to Smoke Inn in Florida and in my book is a 2011 Cigar of the Year candidate. Some Tatuaje retailer exclusive cigars are more accessible than others. In the case of the Anarchy, Smoke Inn sold it online so it was accessible to the public. Other Tatuaje retailer exclusives have not been as accessible. This is the case with the Tatuaje Federal Cigars 90th Anniversary 109. This was an exclusive done for Federal Cigar in New Hampshire for their 90th anniversary. Once it was released, it created a scramble for many cigar enthusiasts wishing to sample this cigar. With the case of the Rosado version of the Federal Cigars 90th Anniversary 109, while it's a good smoke, it falls a bit short of the high expectations that I had for this cigar.
The Federal Cigar 90th Anniversary 109 is an extremely limited cigar with only 300 boxes of the Rosado wrapper cigar and only 100 boxes of the Connecticut Broadleaf wrapper cigar. I was lucky enough to receive a Rosado version as a gift. Therefore, this assessment is based on a single cigar I received. I opted to go with a full assessment as opposed to a pre-review because: 1) I do feel I have enough information on this cigar; 2) It will probably be next to impossible to get another one of these cigars, so I need to go with what I know.
Blend Profile
As I mentioned above, the Federal Cigar 90th Anniversary 109 is available in both a Rosado and a Connecticut Broadleaf wrapper. In both cases, it is all Nicaraguan puro. This assessment will focus on the Rosado edition.
Wrapper: Nicaraguan (Rosado)
Binder: Nicaraguan
Filler: Nicaraguan
Vitolas Available
Regardless of the wrapper, the Federal Cigar 90th Anniversary 109 is made in one vitola. This is called the 109 – a 7 1/4 x 50 Churchill sized cigar.
Preparation for the Cigar Experience
For my Federal Cigar 90th Anniversary 109 Rosado I opted for a straight cut into the cap. I immediately performed a pre-light draw and was treated to flavors of mixed fruit. These notes were actually on the mild side from a body standpoint. I figured once I fired up this one, I would be treated to more depth with the flavors – therefore it was on to the smoke.
Flavor Profile
On my initial draws following lighting my Federal Cigar 90th Anniversary 109, I did notice an increase and body of the notes from the pre-light draw – more of what I expect from a Tatuaje. I was treated to notes of cedar spice right off the bat. The interesting notes were the secondary flavors – namely some undertones of chocolate combined with floral/herbal notes. This was definitely something unique.
As the cigar experience progressed, the chocolate notes really seemed like it wanted to crack thru and finally around the 1/3 point, they succeed in moving to the forefront. At this point, I also noticed hints of orange peel and cedar spice complimenting the floral/herbal notes in the background. At the halfway point of this smoke, the cedar spice began to pick up and they now wanted to crack through as a dominant flavor note. Still the chocolate notes managed to hang in there The orange peel notes I had detected earlier had transitioned to the sweet mixed fruit notes I got on the pre-light draw, but with more body
By the last third of the Federal Cigar 90th Anniversary 109, the cedar spice kicks it up a bit and eventually moves to the forefront. I enjoyed the flavors of this cigar. While it seemed like the chocolate notes were in the forefront for a while, there was more complexity to this cigar than one might give credit for. When I got to the nub, it still was producing good flavors with no harsh tones. The one issue – the nub was soft and pretty warm.
Burn and Draw
While sometimes I have not loved the flavors of a Tatuaje Cigar, I've always given them high grades in terms of burn and draw. With the Federal Cigar 90th Anniversary 109, this was the complete opposite. It had great flavors, but from a burn and draw standpoint, it fell way short from what I expect from Tatuaje. Now it's important to note that I only sampled one cigar and since cigars are hand-made, it is possible I could have had an isolated issue.
From a burn standpoint, the cigar was good, but not excellent. It did require some touch-ups. While it burned at a decent rate, the last third of this cigar burned much hotter than it should have. I'm still amazed the nub didn't give me any harshness.
The draw was the real issue I had with this cigar. This was a tight draw that was a constant struggle throughout the smoking experience. There were times I thought the draw would open – and it just didn't. This probably caused the reason why my cigar burned hot in the last third.
Strength and Body
From a strength perspective, the Tatuaje Federal Cigar 90th Anniversary 109 Rosado won't overpower you and is a solid medium in this category. If you are looking for flavor over power, this cigar brings that to the table. The flavor notes have some depth and definitely fall squarely into that medium to full range.
Final Thoughts
Draw issues (and to a lesser extent the warm burn in the last third) aside, this cigar produced unique and enjoyable flavors. Without those construction issues, would this have been a candidate for my Cigar of the Year – probably not. There are still some cigars with better flavors and more strength in what is a competitive race for the top spot already for 2011. Is this a Top 20 cigar? Most definitely -although in my book I am not sure such a limited availability cigar will qualify for my list, but that's a debate for another day. Tatuaje fans will probably still line-up for this one. As for me – I'd definitely love to have another crack at this cigar and determine if the draw and burn issue I had was isolated.
Summary
Burn: Good (Fair at the end due to burning hot)
Draw: Fair
Complexity: High
Strength: Medium
Body: Medium to Full
Assessment: Nice to Have
Disclaimer: The cigar described in this assessment gifted to me by a friend.