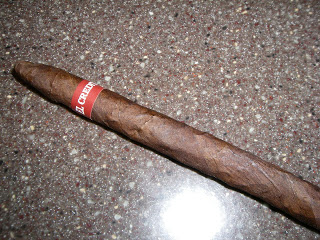 When you hear the name El Credito, two things come into my mind: 1) The famous factory where many of the famous La Gloria Cubana cigars are made; 2) The El Credito cigar line – value priced cigars that are also produced out of this factory. Coming off what I considered a stellar year for La Gloria Cubana in 2010, Team La Gloria Cubana this time has put a new release out under the El Credito name. Last year, La Gloria Cubana really took things to a next level in terms of innovation with the Serie N, Artesanos de Tabaqueros, and Artesanos de Obelisco. This time they go back to basics and release a simple cigar called "El Perrito War of Flavors". The cigar is intended to be a value priced cigar selling with a SRP of $2.50 and packaged in boxes of 50. The question is, how can a simple looking (and small smoke) stand up with the great work done by Team La Gloria Cubana? The answer – this might be one of the better cigars under $3.00 that I ever smoked. The El Perrito delivers a powerful smoke with plenty of flavor.
As mentiond – for the El Perrito, La Gloria Cubana goes back to basics – this cigar is not made with a mold. It uses two filler leaves, a binder leaf and a wrapper leaf. The cigar has a very toothy look to it – definitely holding true to the Cuban tradition in the spirit of the El Credito factory. I received three samples of this and no two cigars looked identical – they each had a very different look.
Blend Profile
Wrapper: Ecuadorian Habano
Binder: Connecticut Broadleaf
Filler: Nicaraguan, Dominican
Vitolas Available
The El Perrito is made in a single vitola. It is a 5 1/2 x 38 sized cigar with a torpedo tip.
Preparation for the Cigar Experience
For the El Perrito, I defaulted to a straight cut into the torpedo tip. I performed a pre-light draw and pretty much the only notes I detected on the dry draw were wood flavors. While this isn't what I expected from a powerful little smoke, once I lit the foot things would change.
Flavor Profile
The initial draws following lighting the El Perrito seemed to generate an interesting spice mix. There were definitely some pepper notes, but I definitely categorized this as more of a red pepper flavor with a mix of exotic spices. There were definitely notes of coffee and cocoa in the background as well. The cigar is called "War of Flavors" and this could not be more true for this particular smoke. On one end, you have the peppery spices – on the other end you have the coffee and cocoa. The two camps of flavors definitely want to struggle for control, but in the end it creates an outstanding balance between the flavors.
As the cigar moves into the second half, the peppery spices finally seemed to win out over the coffee and cocoa. At the same time, this cigar never became a pepper bomb. In fact, in the last third, I was completely surprised as some sweetness emerged. This sweetness never overtook the spice. In fact, it almost had a sugar cane sweetness to it.
I got very good nub on this cigar. The nub was soft, but cool – and it was still producing flavors right until the end.
Burn and Draw
Great scores in both of these categories. As you can see from the picture below, the burn was razor sharp. I did not need to touch up the El Perrito once. The burn rate and temperature were perfect. Beautiful white ash was produced throughout this smoke. The draw was flawless and made for an outstanding smoking experience. This small cigar also produced a lot of smoke.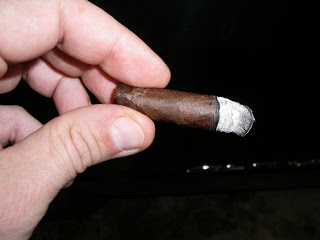 Strength and Body
This cigar was advertised as a powerhouse and it is one. It starts out as medium to full in strength, but it doesn't take long to move right into full strength. You will definitely feel the power right after the experience with cigar. As for body, it is similar – it starts out as medium to full, but doesn't take long to become a full bodied smoke. This is clearly a cigar that produces lots of flavor in a small package.
Final Thoughts
Thin, short cigars are usually not of my profile. When I heard of the this being a super-bargain cigar, I was also skeptical – considering how high I felt La Gloria Cubana raised the bar in 2010. However, this cigar really surprised me. It gave me a nice half hour smoke – with all of the punch and flavor that I would want out of a cigar. One final note – although this winds up being a full bodied, full strength cigar for most of the smoke, the El Perrito smoked incredibly smooth. Not only would I purchase this cigar again, but I wouldn't hesitate to recommend it to any person who likes a powerful smoke.
Summary
Burn: Excellent
Draw: Excellent
Complexity: Medium
Strength: Full (Medium to Full early on)
Body: Full (Medium to Full early on)
Assessment: Nice to Have
Disclaimer: The cigars for this assessment were provided to by Will Woodcock of General Cigars. The request was initiated by Will to myself (Cigar Coop) to sample and provide an assessment. Cigar Coop is appreciative to samples provided but this plays no role in a final assessment rating.