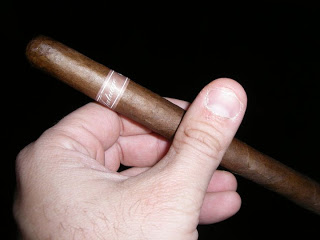 In my last review of the E.P. Carrillo Core Line, I mentioned "build a core line and they will come". I guess to some extent this holds true for Tatuaje Cigars, but Tatuaje really has built their reputation on their limited releases. Ultimately, I think the success of any cigar line comes down to a successful core line. For Tatuaje, I do think Pete Johnson has done a good job with his with El Triunfador core line. With any line of cigars – obviously some cigars are better than others. Today, I'll take a look at what sometimes is called the Tatuaje "brown label". Namely the Tatuaje Seleccion de Cazador – specifically the lancero vitola known as "Especiales".
The Tatuaje Seleccion de Cazador is listed on the Tatuaje web-site as an old world full-bodied cigar blended in the Cuban style created by Pete Johnson in 2003. It represents one of the older cigars in Johnson's portfolio.
Blend Profile
You might see some conflicting information on the wrapper for this cigar. The Tatuaje web-site mentions Ecuadorian Habano. If you look across the web, you will notice Nicaraguan Corojo 99 as the wrapper. Zencigar has a good explanation of this and explains the whole concept about Corojo very well. Nicaraguan Corojo 99 is the Nicaraguan grown version of the Ecuadorian transplant of the Corojo '99 plant.
Wrapper: Nicaraguan Corojo 99 (Ecuadorian Habano transplant)
Binder: Nicaraguan
Filler: Nicaraguan
Vitolas Available
As with any core line, it does require a good selection of vitolas to appeal to the masses. The Seleccion de Cazador does a good job at this. Like with the E.P. Carrillo line, I like how Johnson gives each vitola an identity. This line does not cater to the big ring gauge cigar fan.
Havana Cazadores: 6 3/8 x 43
Unicos (Belicoso): 6 1/8 x 52
Noellas: 5 1/8 x 52
Tainos: 7 5/8 x 49
Especiales: 7 x 38
Regios: 5 x 50
Petite Tatuaje: 4 1/2 x 32
7th: 5 5/8 x 46
With the exception of the Petite Tatuaje and the 7th, the Seleccion De Cazador line is made in Miami, Florida. For these two exceptions, they are made in Nicaragua.
Preparation for the Cigar Experience
I selected the Especiales for this experience. I had just reviewed the Tatuaje El Triunfador lanceros, so I figured why not assess one more thin ring gauge cigar. For this specific cigar experience, I did not have my double guillotine cutter, so I ended up using my punch. For thin ring gauge cigars (and very thick ring gauge ones as well), I normally don't punch cut them . After putting a punch cut, I was treated to some decent notes of black cherry. I found nothing terribly complex. I toasted the foot and began the smoke.
Flavor Profile
Like with the core line of the Ecuadorian Habano El Triunfador by Johnson, I really did not find the Seleccion de Cazador Especiales to be a very complex cigar. Typically with low complexity cigars, if it makes up in flavor I am satisfied.
The initial draw of this cigar produced notes of wood and light pepper. In fact, I could also sample the light pepper through my nose. The wood quickly transitioned to cedar spice and it didn't take only before the black cherry notes I sampled on the dry draw emerged. Finally, some secondary notes of coffee emerged here. This would be the flavor profile for the majority of my smoke. At times the various flavor notes would vary in depth.
The finish to this cigar was not harsh. It maintained its flavor right to the end. The nub was cool, but a little soft.
Burn and Draw
Folks seem to either love Pete Johnson or they don't. One thing that I don't see anyone dispute is the quality of his cigars from a construction standpoint. Tatuaje Cigars consistently have "A" grades for construction and the Seleccion de Cazador is no exception. The burn and draw are representative of this. The Seleccion de Cazador Especiales did not require any touch-ups. It burned at a good rate and temperature. While my nub was a little soft, I probably smoked this lancero longer than normal. The draw was outstanding as well on this.
Strength and Body
As mentioned on the Tatuaje Web-Site, the Seleccion de Cazador is described as an "old world full-bodied cigar". Sorry, there is no way this is full-bodied. In my opinion the depth of the notes barely qualify for medium to full. Now I cannot tell you if "old world full-bodied" means medium to full – if it does, then perhaps this is true. The strength profile is a solid medium – this smoke is pretty much good any time of the day.
Final Thoughts
The best way to sum up my experience with the Seleccion de Cazador Especiales is that this is a good cigar, but not one that is going to wow me. The construction is very good. It has good flavors, but not ones that will have me doing handstands. Overall this is a good cigar, but not as high as its El Triunfador cousins in the Tatuaje line. I'm not sure I'd buy it again, but if someone gave me one, I wouldn't be upset either.
Summary
Burn: Excellent
Draw: Excellent
Complexity: Low
Strength: Medium
Body: Medium to Full
Assessment: See What You Think
Disclaimer: The cigar experience described in this assessment was purchased at Cigar Vault in Staten Island, New York.