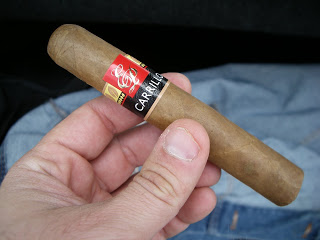 As I continue to follow the cigar industry, one rule of thumb I see when it comes to manufactuers is "build a core line and they will come…"   Such is the case with E.P. Carrillo.   When Ernesto Perez-Carrillo launched his E.P. Carrillo Cigar company, the initial releases were limited edition runs.   It was in 2010 when EPC released their first core cigar – this one is simply called "The E.P. Carrillo Core Line".   Going back to his La Gloria Cubana days, Ernesto Perez-Carrillo has been one of the most consistent blenders when it comes to making quality cigars.   The Core Line once again is a testament to the great cigars made by Perez-Carrillo.
An important note, I do believe EPC has done a great job at balancing the limited releases with the core production cigars – this is especially true with tthe 2011 releases.  This balance is something that I believe is important to the growth of any cigar manufacturer.   It is why I believe EPC will eventually be in that "upper right quadrant" of cigar companies.  For now, let's turn our attention to this initial core production cigar by EPC.
Blend Profile
No doubt the beautiful natural-colored Ecuadorian Sumatra wrapper gives this cigar its striking appearance.  Also worth noting is the double Nicaraguan binder.
Wrapper: Ecuadorian Sumatra
Binder: Double Nicaraguan
Filler: Dominican & Nicaraguan
Vitolas Available
One good move in building any core production line is to make a wide range of vitolas – this way there is something for everyone.  With six vitolas, the E.P. Carrillo Core Line succeeds in doing this.   As always, I love how E.P. Carrillo assigns names to each vitolas.
Churchill Especial: 7 1/8" x 49
Club 52 52: 5 7/8" x 52
Encantos: 4 7/8" x 50
Golosos: 6.25″ x 60
Predilectos: 6 1/8 x 52 (Torpedo)
Regalias: 5 5/8 x 46
Preparation for the Cigar Experience
For this cigar experience, I opted to sample the robusto-size Encantos vitola.  With this particular vitola, there are times I have used a punch cut in the cap, but this time I opted for a traditional straight cut.   It was then on to perform a pre-light ritual.   The dry draws gave me notes of light cedar and nut.  From the appearance of the wrapper, these were the notes I expected.   Now it was on to light the cigar and enjoy.

Flavor Profile
For the E.P. Carrillo Core Line Encantos, I did not find this to be an overly complex cigar.   For the most part the flavors that I received from this cigar were pretty consistent throughout – varying in degrees of depth.
The initial draws of the cigar gave me similar notes from the dry draw of nut and light cedar spice.  There also were some nice flavors of butter and cream layered on top of the nut and cedar.  The balance of these four flavors is perfect.  These are pretty much the flavor notes that I got throughout the smoke.   The flavor notes will get more pronounced as the smoke progresses.  The cedar spice is the wildcard with this experience as it will vary in intensity as the smoke progresses.
When the cigar comes in for a finish, it is classic E.P. Carrillo – a nice flavorful finish on the nub.   The nub is cool and firm.
Burn and Draw
I always say that when it comes to construction, Ernesto Perez-Carrillo is one of the best in the business.  With the Core Line, there were no shortcuts taken when it comes to the quality of this construction.   The burn was excellent, needing only a couple of touch-ups.  The draw was near perfect as well.
Strength and Body
The Core Line actually has a little more pop than one might think.   From a strength standpoint, it's definitely in the medium to full range.  The flavor notes are robust and very pronounced.  This cigar is also a solid medium to full in terms of body.
Final Thoughts
The E.P. Carrillo Core Line again succeeds in delivering a high quality cigar in nice price range (depending on the vitola and retailer, I've seen the SRP from $6.00 to $9.00).  I do admit, I'd probably still reach for the Short Run 2010 which is not much more expensive and has some more complexity.  Still, this is not a knock on the Core Line as this is a great foundation for cigar for not only E.P. Carrillo, but cigar enthusiasts.  This cigar is definitely worth having a few in your humidor.
Summary
Burn: Excellent
Draw: Excellent
Complexity: Low
Strength: Medium to Full
Body: Medium to Full
Assessment: Nice to Have
Disclaimer:  This cigar as a promotional cigar with a purchase of a box E.P. Carrillo Limitada 2010 cigars from Corona Cigar Company in Orlando, Florida.