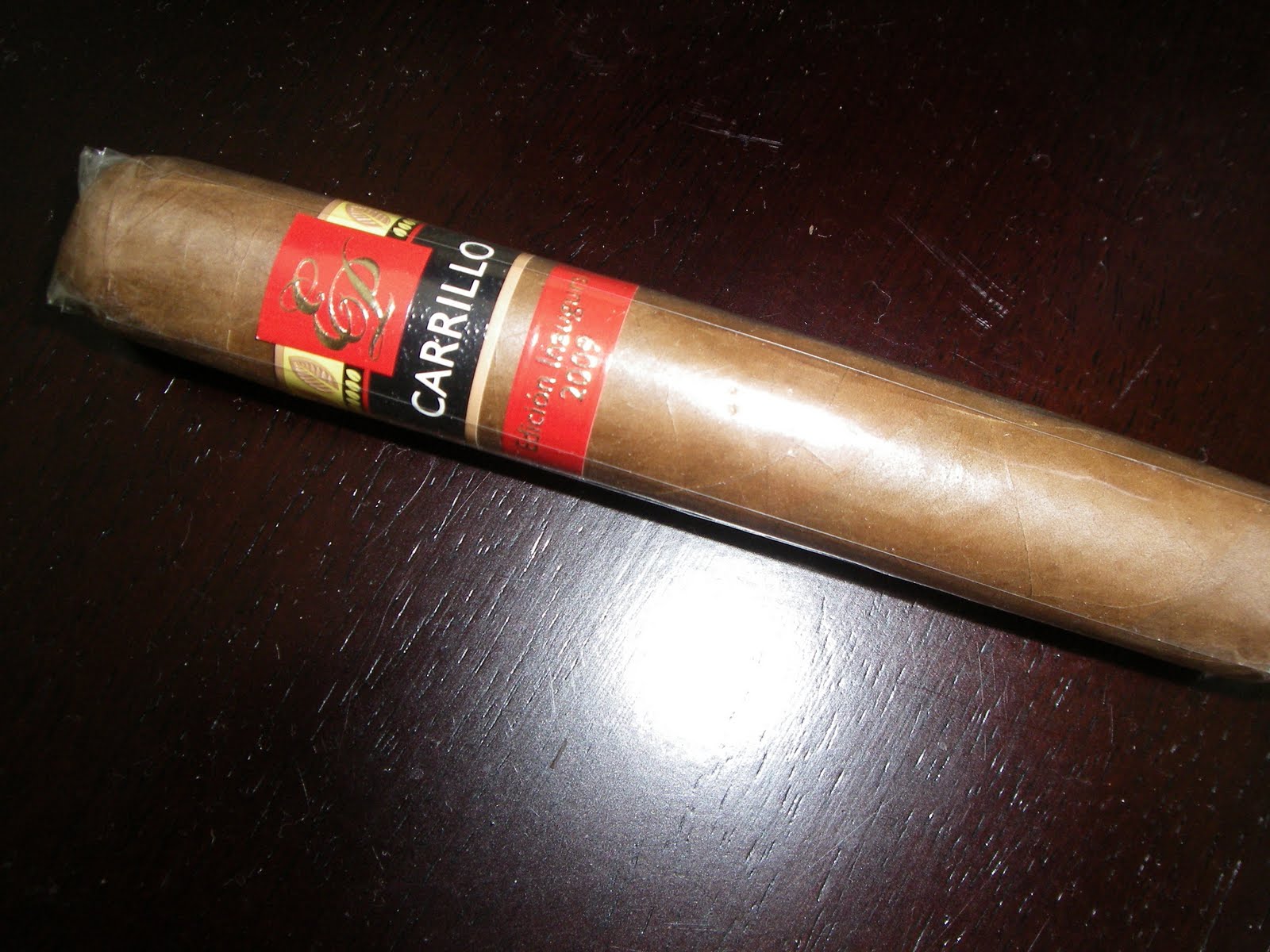 If you have been following this web-site, you know that I am a big fan of E.P. Carrillo cigars.  E.P. Carrillo was founded by legendary cigar maker, Ernesto Perez-Carrillo Jr.  Perez-Carrillo is famous for being the founder of the legendary La Gloria Cubana line. In 2000, the La Gloria Cubana line was sold to General Cigar.   Perez-Carrillo stayed on with General until 2009 where he left to launch his own line. The first release  was the limited run "E.P. Carrillo Edicion Inaugural 2009".   Being that this is the cigar that launched what now has become an exciting new line, I figured it was time to provide a detailed assessment around this cigar.
The Edicion Inaugural 2009 made its way into the market in the late 2009/early 2010 timeframe.  It is sold in boxes of 10 and the word is that 15000 boxes were produced.   Let's take a closer look at this cigar.
Blend Profile
There are two characteristics about this blend – the beautiful 3 year aged Ecuadorian Habano wrapper and the double binder of Piloto Cubano tobaccos from Nicaragua and the Dominican Republic.
Wrapper: Ecuadorian Habano
Binder: Nicaraguan, Dominican (Piloto Cubano)
Filler: Nicaraguan, Dominican
Vitolas Available
The cigar is available in a single vitola.  This is a 5 3/8 x 52 sized cigar that makes it a somewhat a larger robusto.
Preparation for the Cigar Experience
For this cigar experience described in this assessment, I happened to smoke this one on my friend's rooftop pool lounge (giving me a great view of the city of Charlotte).  I opted for a straight cut into the beautiful Ecuadorian wrapper.  Sometimes I wonder if a wrapper's appearance can influence the taste sensations – especially on a pre-light draw.   I say this because this cigar has a very "buttery" looking wrapper and sure enough the notes I got on the pre-light draw were of butter cream.   It was then on to light this one up and see what it would bring to the table.
Flavor Profile
On the initial draws of the Edicion Inaugural 2009, the butter and cream notes continued to be in the forefront.  I also detected some faint pepper notes in the background – this spice combined over the butter/cream made for a very nice start.
Shortly after the start, a citrus-like sweetness emerged with this cigar – and it's one that I never tasted before.  My classification for this sweetness – grapefruit.  Layered with the butter/cream still present, this made for a very interesting flavor profile.   About 20 percent into the Edicion Inaugural 2009, some notes of chocolate emerge as well – this is something I did not expect.   The chocolate and grapefruit flavors will take center-stage.   The faint pepper notes that were present earlier on still remain.
At the midway point of the cigar, some of the butter/cream notes that were present earlier on return and enhance the chocolate notes nicely.  Toward the end of this cigar, there is some spice – namely pepper notes have transitioned nicely into a cedar spice.   The finish to this cigar was pleasant – definitely enjoyable right to the end.  The nub was a little soft, but it was cool.
Burn and Draw
For the Edicion Inaugural 2009, burn and draw are both excellent.  This might sound like a broken record each time I review an E.P. Carrillo, but it couldn't be more true.  The burn was razor sharp, burned at the right temperature, and the right rate.   The draw was perfect making the Edicion Inaugural 2009 a pleasure to smoke..   It is construction like this that have helped Ernesto Perez-Carrillo become a legend.
One side note:  While smoking this one,  I dropped this particular cigar and got a crack in it that did go into the binder.  Yet, you would have never known it.  It burned as though as if there was no crack.  This is another testament to the construction.
Strength and Body
This cigar isn't going to pack a punch from a nicotine profile.   For the majority of this smoke, I'd put this in the upper end of the mild to medium range.  Toward the end, the strength definitely is more medium.  As for body, it has very good flavors.  I'd put this in the upper end of the "medium" rating for body.
Final Thoughts
I want to say "E.P. Carrillo does it again", but this was the first cigar from the company.   This cigar stands as a cornerstone for a lot of good work that would follow from E.P. Carrillo.  The SRP for this cigar is going to be a little high – $13.00, but as I've said with many other pricier cigars I enjoy, you cannot put a price on quality.   I'd recommend this one to a seasoned or new cigar enthusiast and most certainly would love to have a box of these.
Summary
Draw: Excellent
Burn: Excellent
Complexity: Medium
Strength: Mild to Medium (Medium toward end)
Body: Medium
Assessment: Memorable
Disclaimer:  The cigar for this experience was gifted to me by a friend.