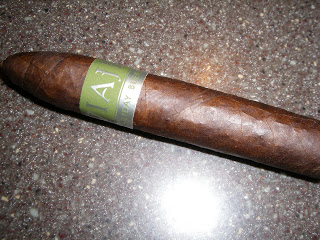 Viaje Holiday Blend 2010
When it comes to limited edition cigars, sometimes I like comparing them to ordering a pay-per-view boxing match – namely sometimes you are going to get a great fight, and sometimes you are not. However, in order to know if you are going to see something special, you need to order that fight. The same comes to limited edition cigars – if you don't try the cigar, you might be missing out on something special. Such was my dilemma when Viaje released their Holiday Blend 2010. Given that the Viaje Holiday Blend 2009 was such a limited cigar that I really enjoyed, I knew I needed to try the sequel – the 2010. I am fan of Viaje and their products. I believe their business model around micro-batch releases creates excitement in the cigar industry. However the Holiday Blend 2010 was a cigar that did not live up to expectations. In fact, it was one of the most disappointing cigars I've had in some time.
I've been public that one I thing I don't like about Viaje, I find when their cigars are shipped to the retailers they are often a little green. With Viaje I've seen this reflected in the ash (often more black) and the flavor profile. My rule of thumb now with Viaje has been that it has to go through an 8 to 10 week aging process in my humidor. One can argue that by that time, a limited run cigar is off the shelves and it's not worth reviewing. With the Holiday Blend 2010, I had this aging for over 5 months in my humidor under ideal conditions. I can honestly say that my disappointment with this cigar has nothing to do with the cigar being "green" as I felt this cigar had the right amount of age. I just think the blend is disappointing.
Blend Profile
Andre Farkas, head of Viaje Cigars usually keeps the details of the blend close to his vest. However, most of his cigars are Nicaraguan puros. For the 2010 edition of the Holiday Blend, there was a change made to the wrapper – namely a Criollo 98 wrapper was used as opposed to the Criollo wrapper. I'm wondering if this change played a role in my disappointment with this blend.
Wrapper: Nicaraguan Criollo 98
Binder: Nicaraguan
Filler: Nicaraguan
Vitolas Available
For the 2010 edition of the Holiday Blend, Viaje made two vitolas:
Short Torpedo: 5 x 54
Petit Robusto: 4 x 54
Preparation for the Cigar Experience
For this cigar experience, I defaulted to the Short Torpedo. If I had my choice, I would have opted for the Petit Robusto, but given I only had access to the Short Torpedos, that's what I went with. Upon performing a pre-light ritual, I detected notes of light cedar and wood. There was nothing special about the dry draw flavors, so I was hopeful once I fired up this cigar it would change. It was then on to light the closed foot of the Short Torpedo and see what this would bring to the table.
Flavor Profile
Upon the initial draws, the notes of wood continued to be in the forefront. Very early in the smoke, I got a quick blast of pepper to treat me. After about a minute or so, the flavors settled back into the wood notes. Overall the start really didn't have me doing handstands.
About 10 percent into the cigar experience I picked up some secondary notes of coffee. Shortly after there were also secondary notes of pepper that emerged. For the most part, this was the flavor profile that would hold for the remainder of the smoke.
One of the problems I had with the flavor profile is that I felt there was too much of the basic wood notes throughout the whole cigar. It hurt the complexity profile of the cigar and didn't deliver a lot of nice flavors. The finish to the cigar was a bit harsh. The nub might have been firm, but it also was warm.
Burn and Draw
The burn and draw were not bad on this cigar. I can't say they were excellent, but they still would easily rate a "Good". At times the draw seemed to be a little tight. As for the burn, I felt the cigar did burn evenly and at a good rate, but it did seem to burn warmer than I would have liked.
The ash was fine. It seemed to hold firm and had a nice gray/white color to it.
Strength and Body
I had heard this cigar was both full-strength and full-bodied. From a nicotine profile, this cigar isn't going to be overpowering. I'm confident saying it is a medium to full in terms of strength. A cigar with a lot of wood notes can only provide so much depth, so I cannot say this was full bodied. I assessed this cigar as medium-bodied at best.
Final Thoughts
I enjoyed the Viaje Holiday Blend 2009, but not the 2010. I don't want to make an assumption that the Criollo 98 wrapper made that much of a difference, but the 2010 is clearly a different blend. Normally when a cigar is disappointing, I'm always open to re-assessing this cigar. If I am able to buy additional cigars (I will not accept free-bees for a re-assessment), I will consider another review. Given Viaje's solid reputation and the fact I have enjoyed many of their smokes, I think this cigar deserves another chance.
Summary
Burn: Good
Draw: Good
Complexity: Low
Strength: Medium to Full
Body: Medium
Assessment: Pass
Disclaimer: This cigars used for this assessment were purchased from Outland Cigars in Charlotte, NC.