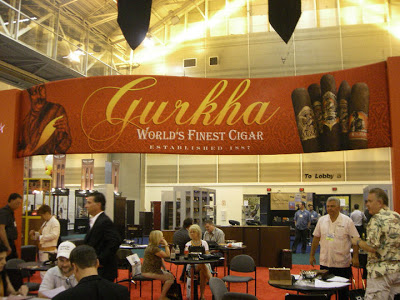 For immediate release
GURKHA CIGARS APPOINTS GARY HYAMS AS PRESIDENT AND CEO
Miami, FL- June 6, 2011: Beach Cigar Group Inc, owners of Gurkha Cigars, one of world's most premium and luxurious cigar brands is proud to announce the appointment of Gary Hyams as the company's new President and CEO.
"I am very excited about the prospect of Gary joining our company. With his knowledge and expertise, I believe he will take our company to a new level," said Kaizad Hansotia, Chairman of Gurkha Cigars.
Hyams has been in the cigar industry for over 30 years, and brings a wealth of experience to Gurkha, having previously been Managing Director of Loretta Cigars London Ltd and having held the position of Managing Director of Henri Wintermans UK. More recently, Hyams served as Chairman of CAO International for the last four years (part of Scandinavian Tobacco Group, STG). Hyams has also been an advocate for the cigar industry, having sat on the Board of Directors of the Cigar Association of America (CAA) and was Chairman of the Imported Tobacco Products Advisory Council (ITPAC).
"I think Kaizad has done a great job in creating such a unique brand in Gurkha, which has unlimited potential both here in the US and indeed globally," said Gary Hyams, President and CEO of Gurkha Cigars. "I especially look forward to building a great team and working even closer with our valued customers in taking Gurkha to new heights."
Gurkha, also acclaimed as the maker of the His Majesty's Reserve cigar, plans on releasing three unique brands at this year's annual IPCPR trade show this July in Las Vegas. The company is also the distributor for the much in demand flavored brand Cojimar, which recently expanded its production facilities in the Dominican Republic and looks to extensively grow its sales and distribution channels.
Gurkha Cigars was founded in 1989 by Kaizad Hansotia and is one of the most famous brands of luxury cigars in the world. Having extraordinary quality and premium blends of tobacco, Gurkha is known for limited release and rare tobacco products with outstanding and artistically-oriented packaging. More information on Gurkha Cigars can be found on the company's web-site: www.gurkhacigars.com.
Adam Handelsman
Managing Director, Lippert Heilshorn & Associates
ahandelsman@lhai.com
Thoughts
This move did catch me by surprise. During his four year tenure at CAO Cigars, Hyams helped take the company to new levels. He also played a role to establish some of the innovative marketing campaigns that CAO became known for.
Gurkha is a company that is already known for having many innovative marketing techniques. Kaizad Hansotia, who founded Gurkha Cigars and has other business interests beyond Gurka will continue to serve as Chairman to Gurkha Cigars. It is logical that Hyams will have an active day to day role in the operations of Gurkha Cigars. Most likely he will infuse some changes to Gurkha, but still keep to the traditions that Gurkha has established in the cigar industry.
Gurkha already has a large line of cigars and some of the most innovative packaging in the business. Last year, the launch of the Viper and Ninja lines represented a change in direction for Gurkha – namely a move to simplicity. It will be interesting to see where Hyams takes things – especially with three new cigars due to launch around the time of the 2011 IPCPR show. Overall I look at the move as a positive for Gurkha as a whole and agree with Hansotia's comments that Hyams will help take Gurkha to new levels.
Disclaimer: This press-release was via email to Cigar Coop.