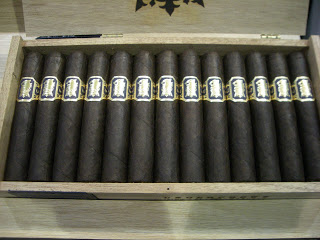 Drew Estate Undercrown
A visit to the Drew Estate booth at IPCPR is always exciting. The booth is bustling with tons of activity and there always is an energy present. This year, that energy might have reached an all-time high as a new line was introduced by DE at the 2011 IPCPR show. This one is called "Undercrown". Note: Much of this information is higher level and I imagine seasoned Drew Estate fans know this already.
Undercrown is being touted as a new brand in the Drew Estate family, but it has close ties to the Liga Privada line. The blend was actually concocted by the rollers in the factory making Liga Privada. It is common for rollers to smoke the cigar they are making. With the case of Liga Privada because there was high demand with limited tobacco, this was not possible. Therefore, the rollers came up with a variation of the Liga Privada blend. This basically involved using alternate primings from the same tobaccos that were acquired and used in the Liga Privada blend. An example of this was mentioned by Steve Saka on the BOTL forum indicating that the binder is from the T52 Stalk Cut Habano.
In terms of strength, the word is that Undercrown is amp'd down in terms of strength and falls more into the Medium range.
Blend Profile
Wrapper: Otapan Negro Ultimo Corte
Binder: T52 Connecticut River Valley Stalk Cut & Cured Habano
Filler: Brazilian Mata Fina and Nicaraguan Cuban Seed
Vitolas Available
The vitola names and sizes were posted on the Drew Estate blog in metric lengths. I did approximate calculations for the English measurement equivalents.
Corona Double: 178mm x 54 (7 x 54) – SRP $8.95
Belicoso: 152mm x 52 (6 x 52) – SRP $8.45
Gran Toro: 152mm x 52 (6 x 52) – SRP $7.95
Gordito: 152mm x 60 (6 x 60) – SRP $9.95
Robusto:127mm x 54 (5 x 54) – $7.45
The cigars will be sold in boxes of 25. Here is my review of the sample I received at IPCPR.
Updated 7/25/11: Added SRP and blend information.
Updated 8/2/11: Added link to review.