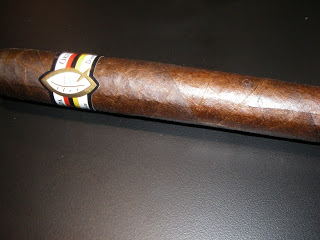 Quesada Oktoberfest
2011 has been a solid year for Manuel Quesada and the team at SAG Imports. The releases of the Casa Magna Domus Magnus, Quesada Seleccion Espana , and the Fonseca CXX Anni have been very strong. At IPCPR 2011, SAG showcased another new cigar into another one of their lines. This cigar was added to the Quesada line and is called the "Quesada Oktoberfest".
The idea behind the Oktoberfest was to find a cigar that can be paired with malt liquor. The plan is for the release of these cigars is toward the second half of the summer of 2011.
Let's take a closer look at the particulars:
Blend Profile
The Quesada Oktoberfest is highlighted by its thick, oily wrapper. It definitely looks like a cigar that can stand up with a hearty malt liquor. The cigar is an all-Dominican puro:
Wrapper: Dominican Cibao Valley
Binder: Dominican Republic
Filler: Dominican Cuban Seed Criollo & Olor Viso & Ligero
Vitolas Available
There are two initial size offerings for the Oktoberfest. Not only do I love the vitola names, but I'm especially intrigued by the 65 ring gauge offering.
The Bavarian: 5 1/2 x 52
The Uber: 6 x 65
I did sample the 52 ring gauge and it was a highlight of IPCPR 2011. Here is my detailed assessment of this cigar.