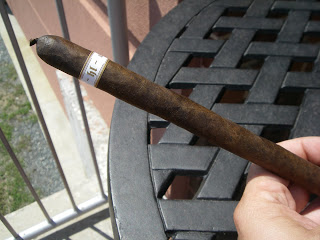 Illusione HL Maduro
I'll make a confession – I am not a lancero vitola fan. I know many serious cigar enthusiasts will say this is the best vitola to smoke, but I just cannot adjust to the small ring gauge. Plus to be honest, I've only found a handful of lanceros that I have found to be to my liking. My buddy Stace is someone who I consider a great trusted adviser and mentor when it comes to cigars. For months, he has been telling me to get over my dislike of the lancero and fire up the Illusione HL Maduro. Finally, this past week I have had a chance to sample this cigar and all I can say is – "Wow"! This cigar is everything he said and more. Bottom line, this is the best lancero I have ever smoked.
HL stands for "holy lance". On the Illusione web-site, the story behind this name documented. There have been three editions of the HL. First up the original Illusione HL used a Colorado wrapper. There are also two variants – one uses a Candela wrapper and the other uses the Maduro wrapper. For the purposes of this review, I will focus strictly on the Maduro version of this cigar.
Blend Profile
Wrapper: San Andreas Negro Maduro
Binder: Nicaraguan
Filler: Nicaraguan
I have to give the Cigar Feed some credit here as they posted the wrapper of the HL Maduro was indeed San Andreas. I do believe this information is accurate and will subscribe to it. San Andreas is producing some of the best wrappers in the industry today. Cigars such as the Emilio AF1, Joya de Nicaragua's My Uzi Weighs a Ton, and A.Turrent Triple Play are all using wrappers from this region. All three of these cigars have been released in the last 12 months and have been outstanding releases. It's no surprise Illusione would want to leverage such an outstanding wrapper.
I also learned from Cigar Feed that the San Andreas Negro is a stalk-cut tobacco. I definitely need to brush up on some Tobacconist University information.
Vitolas Available
The Illusione HL Maduro is available in a single vitola – a 7 1/2 x 40 Lancero.
Preparation for the Cigar Experience
As with any lancero vitola, I always opt for a straight cut. The HL Maduro has a pig-tail cap, but I almost always put a straight cut into any pig-tail cap. The pre-light draw was interesting. I definitely detected notes of leather with a touch of pepper spice and a touch of cherry sweetness. It was now on to fire up this cigar and see what it brings to the table.
Flavor Profile
Upon the initial draws of the HL Maduro, I detected the signature tea notes that are so common with Illusione cigars. There was still a touch of the pepper spice and cherry sweetness that I found on the dry draw.
As the smoke progressed to the 1/3 point, I noticed the sweetness move to the forefront and change to more of the caramel and butterscotch variety. I found these flavors meshed very nicely with the signature tea notes. The flavor notes were definitely becoming bolder and more pronounced. At the 1/2 point, I noticed the spice begin to kick it up a notch, but the spice transitioned into more of a baker's spice. So far, I really enjoyed how the flavors were complementing each other.
Around the 3/5 point of the smoke, another flavor transition kicked in – this time the flavors were more of the mocha coffee variety. When a cigar transitions flavors very smoothly like the Illusione HL Maduro does, it gets very high marks in my book.
In the final third of the cigar experience, I noticed the baker's spice begin to subside. Notes of leather and tea soon emerged in the forefront. This made for a very smooth finish. My nub was firm and cool. There was no harshness. The cigar made what I term a "pinpoint accurate landing" to close.
Burn and Draw
The burn was outstanding. It required virtually no touch-ups and it burned at the right rate and the right temperature. As for the draw – flawless. This might have had one of the best draws I experienced on any lancero.
Strength and Body
In both of these categories, I was really pleased as the HL Maduro really struck a perfect balance. There was a little more kick in this cigar than I originally thought. I rate the strength in the medium to full range. As for the body, the flavors had a lot of depth. This definitely rates as a full-bodied smoke in my book.
Final Thoughts
My friend Stace was right on the money and there is a reason why he is a mentor to me when it comes to cigars. This cigar was nothing short of a home run that was out of the ballpark. It made me realize that there is a lancero that I can enjoy time and time again. I said upfront that this was the best lancero I ever had and I stand by that point. I'll go a step further and say this cigar might someday be in my Cigar Hall of Fame. I cannot wait to smoke some more.
Summary
Burn: Excellent
Draw: Excellent
Complexity: High
Strength: Medium to Full
Body: Medium
Assessment: Memorable
Disclaimer: One cigar for this review was gifted to me by a friend and the other one was purchased from Outland Cigars in Charlotte NC.