This press release arrived in my inbox tonight. Many sites had this posted a couple of weeks ago, but I wanted to be sure to publish this as well. This is related to the Torano,Loyal. This expands on the preliminary information that was released on Cigar Dave last month.
TORAÑO FAMILY CIGAR COMPANY READY TO UNVEIL ITS NEWEST BRAND "LOYAL" AT 2011 IPCPR IN LAS VEGAS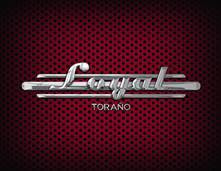 FOR IMMEDIATE RELEASE
(Miami, FL) June 20, 2011: Torano Family Cigar Company is proud to announce the launch of the family's newest brand: Loyal, which will be hitting the shelves this July. The Torano family will unveil its newest creation at the upcoming 2011 IPCPR in Las Vegas.
"Carlos Torano Sr. has always maintained that anyone who enjoys a cigar deserves to smoke a great Torano blend at an affordable price. For decades, Carlos and his son, Charlie, have remained loyal to this philosophy of providing outstanding value to cigar lovers. Loyal provides value, quality, consistency, and most importantly, an abundance of flavor."
"Our new brand Loyal is dedicated to my father's long standing commitment to provide exceptional quality cigars without breaking the bank. To him cigars were never a far reaching luxury, but one of life's simple pleasures", said Charlie Torano president, Torano Family Cigars. Loyal will be available in a 5×56 Robusto, a 6 1/8 x52 Torpedo, a 7×47 Churchill, and a 6×60 BFC, all with an MSRP between $4.95-$5.50.
Displayed in attractive 21 count boxes, the Loyal blend features fillers from Nicaragua and the Dominican Republic, combined with a Nicaraguan binder and dressed in an oily Ecuadorian Sumatra seed wrapper. Loyal is a solid, medium bodied smoke, that intrigues the palate with a spicy, peppery start and then transitions to a variety of rich flavours with notes of coffee and brown sugar.
The announcement of Loyal comes on the heels of recent exciting news from the Torano Family Cigar Co. In the past 30 days Torano announced distribution agreements with Graycliff and the Sam Leccia Cigar Co. The Torano's see no slowing down till the IPCPR in Las Vegas as they are putting the final touches on yet another brand which will be announced in the coming weeks. Stay tuned!
A leader in the cigar industry, Torano Family Cigar Company is a four generation company currently based in Miami, FL. It enjoys a rich heritage and history in tobacco growing and manufacturing. For more information: www.torano.com. Please also follow Torano on Face book: Torano A family Cigar Company or on Twitter: @TORANOFAMCIGARS.

Disclaimer: This press release was sent by Creativas Group Public Relations, a group that handles public relations for Torano Family Cigars.