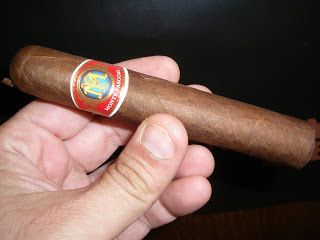 Monte Pascoal – Robusto (All Brazilian Puro)
I admit, when it comes to cigar blends, I tend to stick to what I am most familiar with – namely my Nicaraguan, Dominican, and Honduran blends (with some Ecuadorian wrappers thrown in as well). However, recently I heard a discussion about how some soils of the Cuban farms have been depleted of much of the nutrients. It got me thinking, if the same were to ever happen to the countries that are the staples of my cigar blends, it could have an impact on what I like to enjoy. There are many secondary countries producing good tobaccos in the tried and true blends I enjoy such as: Peru, Mexico, Panama, Colombia, and Brazil. I started to wonder how puro blends (meaning wrapper, binder, and filler all from same country) from these secondary countries would compare to my old staple puros. As luck would have it, I was gifted an all Brazilian puro called the Monte Pascoal. I had not ever tried a Brazilian puro, so here was my chance to answer the question. I admit, I was a little skeptical, but this cigar turned out to be one of the revelation smokes I have enjoyed this past year.
The Monte Pascoal cigar is distributed by Tabacos Mata Fina. The company itself is a business unit of a company called Orsi Family Group which is in the wine, steel, and real estate business. It was established in 2007 with the mission to promote the Brazilian tobacco industry. The cigars themselves are made in Crus sas Almas – Bahia, Brazil. Bahia is one of Brazil's 26 states and is located on the East Coast of Brazil.
Let's take a closer look at the Monte Pascoal Cigar:
Blend Profile
As mentioned this is an all-Brazilian puro, meaning wrapper, binder, and filler all come from Brazil. Here is a breakfown of the specific tobaccos:
Wrapper: Brazilian Mata Fina
Binder: Brazilian Mata Fina
Filler: Brazilian Mata Fina and Brazilian Mata Norte
Brazilian Mata Fina tobacco is well-known to many. Mata Fina has been used as wrapper (ex. Gurkha Para La Gente, 7-20-4), Binder (Liga Privada No. 9, Liga Privada Dirty Rat), and Filler (Macanudo 1997 Vintage, Macanudo Cru Royale, Joya de Nicaragua's My Uzi Weighs a Ton). I admit I was not as familiar with Mata Norte tobacco. From the Monte Pascoal web-site, they say this tobacco is what provided a more body to the smoke.
Vitolas Available
The Monte Pascoal blend is available in six vitolas:
Minutos: 4 3/8 x 42
Petit Robusto: 4 x 50
Robusto: 4 7/8 x 50
Corona: 5 5/8 x 42
Belicoso: 5 1/2 x 52
Double Corona: 7 5/8 x 49
Preparation for the Cigar Experience
I will preface this by saying I only smoked one sample and the Robusto was the one I sampled. I opted to use a punch cut. The pre-light draw wasn't overly exciting – I got notes of cedar and caramel. I would not say these notes were very pronounced. Once I lit this cigar, things soon began to change….
Flavor Profile
The initial flavor notes treated me to notes of leather with a little caramel. I wouldn't categorize this initial caramel as overly sweet, but it made for an interesting start. Shortly after, I detected some notes of coffee as well as a return of some of the cedar spice I had gotten on the pre-light draw. This made for an interesting flavor profile early on. As I got toward the end of the first third, I noticed the coffee notes began to transition to more of classic chocolate notes. I also was able to sample the cedar spice through my nose.
As the cigar entered the second third, the chocolate notes moved to the forefront. They chocolate began to get deeper and sweeter. This was making for one smooth smoke. The chocolate, cedar spice, leather, and caramel were the notes that would hold throughout the remainder of this smoke. I got a nice nub on this cigar. The nub was a soft, but it was not hot. Best of all, the sweetness and smoothness of this smoke went right down to the nub.
Burn and Draw
This was a real surprise. The burn on this cigar was as good as one I ever had. The burn was near flawless for the whole smoke. There were no significant touch-ups needed on this. It burned at the right rate and right temperature. The ash was white and very tight. This cigar was outstanding in the construction department. The photos below show the burn and ash.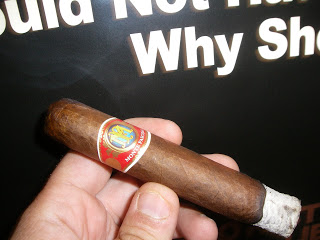 White ash on the Monte Pascoal Robusto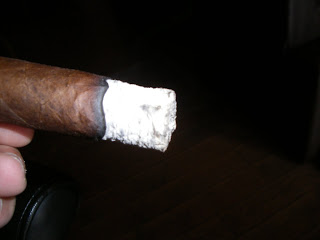 Little fuzzy, but the Monte Pascoal Ash still firm as can be
The draw was a little tight to start, but then it opened up. Overall, it was an excellent smoke to draw from.
Strength and Body
I did not know what to expect from a strength and body profile from this cigar. The Monte Pascoal started mild to medium, but then settled into a medium in terms of strength for the majority of the cigar experience. From a body standpoint, I would say it started out as a medium, but the flavor notes really got some good depth early on – and it remained like that. I would definitely categorize the body as medium to full. I categorize the Monte Pascoal as a cigar that makes for a great flavorful morning smoke.
Final Thoughts
The Monte Pascoal really impressed me. This was an outstanding smoke and it told me that a great puro can come from a country other than the tried and true puros from the popular countries. There are other cigars from Brazil and I would be curious to try them as well to see how it stands up to the Monte Pascoal. This is a cigar I not only would recommend, but one I would buy a box of. Retailers probably need to help sell this cigar as it a different blend and doesn't have the most flashy band (but that's what retailers are for -and I still love the band). I'm looking forward to trying some more of these.
Summary
Burn: Excellent
Draw: Excellent
Complexity: Medium
Strength: Medium (Mild to Medium to start)
Body: Medium to Full (Medium to start)
Assessment: Memorable
Disclaimer: This cigar was gifted to me by a friend