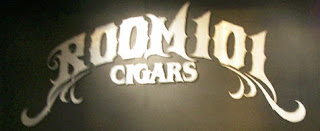 Room 101 Cigars has posted information on their web-site about their third release, the Room 101 Namakubi.
Details can be seen on the Room 101 Blog about the background of the cigar. It pays homage to Samurai culture. Cigar Aficionado also put information on this.
Blend Profile
Wrapper: Ecuadorian Habano
Binder: Honduran Generoso seed
Filler: Dominican and Honduran "Vuelta Abajo"
The binder is the most interesting component of this blend. I know the Generoso is used as the wrapper on the Camacho Super Limitado. This was named after Christian Eiroa's (Camacho Cigars) grandfather. It was Eiroa's father that worked on this tobacco through an experimental seed. The experiment was not successful from a yield standpoint, but Eiroa feels this is a tobacco that developed great flavor.
Vitolas Available
Papi Chulo: 4×42 (MSRP: $6.00): 400 boxes, 50ct cabinetta style
Roxxo: 4 x 48 (MSRP: $7.00): 1000 boxes
Tiburon: 6 x44 (MSRP: $8.00): 1000 boxes
Sucio: 7 x 48 (MRSP $9.00): 1000 boxes
Monstro: 5 x 60 ($MSRP 10.00): 1000 boxes
Total Production: 100,000 cigars
The blog post says the cigar is medium to full in body. Stay tuned for more information as this cigar makes its way into stores.