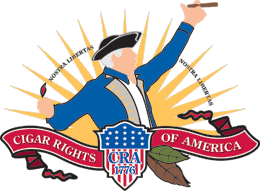 Back in April, I posted some information on why all cigar enthusiasts need to get behind HR 1639. This is some important legislation that give premium cigars an exemption from FDA control. I called this "the most important political action item I have posted to date." There is now a real sense of urgency that must be given to this. The FDA is apparently stepping up the timetable to putting regulations under their control.
From talking to many cigar enthusiasts who might not follow the industry, there is a huge misconception about this bill. Many have been under the impression that there is a fight to stop the FDA from gaining control of premium cigars. This is incorrect. Right now this control is already in the FDA's hands. This means they can enact regulations against the cigar industry. Well this past week, they announced intentions to do just that. They published in the Federal Register their plans to enact a timetable for such regulations for October 2011 – less than three months away. Thus, the sense of urgency needs to be here among cigar enthusiasts.
What does this mean? It could mean the following:
No more walk in humidors – just like in Canada
Limits on advertising and promotions
Banning the very word cigar or tobacco
Manufacturers having to submit blends to FDA for "testing," before heading to your local shop – imagine the impact on boutique cigar makers
Adverse impact on flavored tobacco products
Loss of jobs in the cigar industry due to the new regulations
And price impact due to new fees on manufacturers. This, is the short list.
The threat is very real, but if HR 1639 is passed this threat can be neutralized. Cigar Rights of America published an action plan and its very important that cigar enthusiasts get behind this. Here are the details:
Cut and paste the CRA link to our petition, and spread it among your own network of cigar club members, fellow cigar enthusiasts, and for cigar shop owners, place on your web site and in your promotional emails, so that we can reach all of Cigar Nation.
[Note: We are working with industry allies to get a companion bill filed in the U.S. Senate. We (Cigar Rights of America) will keep you informed of progress on that front.]
Make no mistake – I believe members of the Pleasure Police from various anti-smoking groups have turned the heat up on the FDA, so it's our turn as cigar enthusiasts to go on the offensive and get behind HR 1639. The good news is that some legislators around the country seem to be listening and are getting behind HR 1639. The bad news is more help will be needed to pass this. The recent success in California shows if you make your voice heard, it can make a difference.