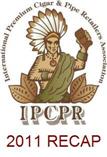 Note: The IPCPR Series is not over yet, but I believe based on my notes I have from IPCPR this is the last of the "Cigar Previews". There are still plenty of cigars to be evaluated as a part of the 2011 IPCPR Series that will be forthcoming and included in the series. As I stated at the start of this series, I did not visit every booth, so I don't have every cigar previewed. I am appreciative in all of the great feedback (and corrections!) from readers on this series and hopefully, I've been able to provide a good technical breakdown of the cigars due to be released.
At the 2011 IPCPR, Ashton announced a new vitola to be added to its popular VSG (Virgin Sun Grown) line. Cigar enthusiasts long know Ashton as a landmark cigar line that has been around for over 12 years. This new cigar is a 5.5 x 54 toro vitola known as the "Pegasus".
The Pegasus becomes the third vitola in the Ashton line to be released as a standard parejo as opposed to a box-press. (The other being the 6 x 56 Wizard and the 6 x 52 Eclipse Tubo). These will come in boxes of 20. Release date is targeted for this Fall.
Blend Profile
For completeness, here is the blend profile of the Ashton VSG:
Wrapper: Ecuadorian Sumatra
Binder: Dominican Republic
Filler: Dominican Republic