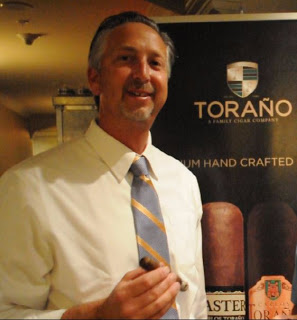 Charlie Torano
During my visit to the 2011 IPCPR, my focus was primarily on evaluating and reviewing technical information around cigars. I did not plan on conducting any formal interviews, but when the folks at Torano Family Cigars asked me if I wanted to interview Charlie Torano, this was something I could not turn down. The folks at Torano have been great partners to what I do on this web-site and the retail end.
I have to thank Oliver Hyams and Gabriel Pineres from Torano's marketing and public relations departments for setting this up and processing the video. Since again, I did not plan doing an formal interviews, they provided the video camera and did the filming. The actual interview was filmed outside the Torano hospitality suite at the Palazzo Hotel in Las Vegas. This interview was held after the trade show hours (and I thank Charlie and the team at Torano for making themselves available).
In the first part I ask Charlie about the changes in the past year at Torano, then get into the stories behind the new releases – the Vault and Loyal. In Part 2, I ask Charlie about big ring gauge cigars and then get a peek in into the future.
Part 1 – Charlie Torano Interview
Part 2 – Charlie Torano Interview