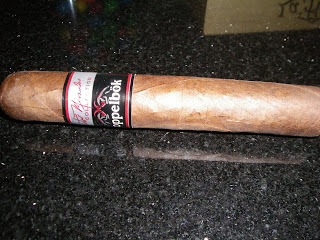 Nestor Miranda Doppelbok
I usually try to keep up to date on cigars that are available on the marketplace, and cigars that are on the horizon. I'm far from perfect on this, but the Nestor Miranda Doppelbok was truly a cigar that hit me from left field. A friend of mine asked me if I had tried this cigar, and I had to admit that I had not heard of the cigar. Being more focused on the brick and mortars, I was unaware that this cigar was floating around Cigar International and Cigar Bid. The most attractive thing about this cigar was the price point – while it has an SRP of $6.00, it is being sold for $2.00 a cigar if you buy 20. When I assess a cigar, I don't factor price into the assessment. While it might be priced like a bundle cigar, this cigar smokes like a premium cigar – and eclipses a lot of cigars that go for four to five times the price.
I don't have much information on exactly what "Doppelbok" means. I'm assuming its a play on the word "Doppelbock". A "Doppelbock" is stronger version of traditional German bock (i.e. German lager). Now I'm no beer enthusiast (and far from an expert in that area), so I'm not going to expand on this any more. I'm assuming this is where the name came from. (Corrections always welcomed!)
Time to break down this cigar and see what it brings to the table:
Blend Profile
There have not been a lot of details disclosed about this blend. As I have always said, while some may not like when this is done, it always gives me a chance to do some more guessing on what the blend's origins and tobaccos are.
Wrapper: Habano
Binder: Unknown
Filler: Nicaraguan (long fillers)
Vitolas Available
At the time of this writing, the Nestor Miranda Doppelbok is available in a single vitola – 5 x 50 Robusto.
Preparation for the Cigar Experience
It's been a while since I've used a punch cut, but I opted to punch cut the Nestor Miranda Doppelbok. Most of the pre-light draw provided wood notes, but in the background I detected a touch of toffee sweetness. While it wasn't the most exciting pre-light draw, I had a feeling there was more to this cigar than I thought. It was on to lighting up this cigar and seeing what it would bring to the table.
Flavor Profile
Since I had not heard of the Nestor Miranda Doppelbok before hand, I did some research online on the cigar. I happened to preview another good review on 99 cigars and they made an interesting point to the sweet notes that this cigar produced – melon-like sweetness. When I started smoking the Nestor Miranda Doppelbok, I couldn't agree more with that analogy. I also detected notes of cocoa and pepper through the nose.
The cocoa/melon connection would hold on for the first half of the smoke. In the second half, I noticed the melon sweetness dissipate and the cocoa remained. Nut notes would join the cocoa on the last third of the cigar. The finish to the cigar was incredible. Inexpensive cigar or not, when you get a firm and cool nub that has no harsh flavors – that is a good cigar. I wouldn't categorize the Nestor Miranda Doppelbok as a very complex cigar that has a lot of flavor variances and transitions, however the flavors I did get were outstanding and somewhat different.
Burn and Draw
The Nestor Miranda Doppelbok had an amazing burn and draw. The burn required few touch-ups. It burned relatively straight at an ideal rate and ideal temperature. The draw was very good, not too loose and not too tight. This cigar burned better than many cigars four to five times the price point.
Strength and Body
The Nestor Miranda Doppelbok also strikes a balance between the strength from the nicotine and the depth of the notes. The Doppelbok will not overpower you and falls into the medium range of the strength spectrum. The flavor notes have some nice depth to them – and I easily would assess this cigar as being medium to full in body.
Final Thoughts
This review would have been exactly the same if this was a $20.00 cigar as I assess the cigar and not the price point. However, it's hard to ignore the fact that the Nestor Miranda Doppelbok is an inexpensive cigar. There were no shortcuts with this cigar. Not only would I recommend this to a novice or experienced cigar enthusiast, but I'd have no issue putting the cigar into someone's hands who normally smokes an expensive cigar. I look forward to smoking this again.
Summary
Burn: Excellent
Draw: Excellent
Complexity: Low
Strength: Medium
Body: Medium to Full
Assessment: Nice to Have
Source: This cigar was gifted to me by a friend.