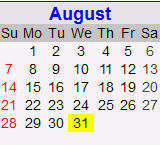 Most of the month of August has been spent on IPCPR wrap-up. There were three major news stories that broke at the end of the month.
Major Stories
First up, the cigar industry lost a legend. Edgar M. Cullman Sr, the longtime chariman, chief executive, and president of General Cigars passed away on August 28th at age 93. Here is a short write-up on Cullman.
The second big piece of news broke the last day of the month. Back in June, Jose Blanco announced he was leaving La Aurora. While it was said he was retiring from La Aurora, there were questions if Blanco would surface somewhere else or stay retired. In a way, Blanco was considered a #1 free agent in the cigar industry. Well the big winner in the Blanco sweepstakes has been Joya de Nicaragua. On August 31st, it was announced that Blanco was joining Joya de Nicaragua as Senior Vice President reporting to Dr. Alejandro Martinez Cuenca.
A fire destroyed two tobacco warehouses of Tabacalera A. Fuente y Cia (Arturo Fuente). It destroyed some tobacco that was irreplaceable. Carlos Fuente Jr. has said that they lost a "lot of tobacco". I heard Carlito Fuente on Kiss My Ash radio last week and he anticipated production would have to be cut back about 15% to maintain the consistency standards set forward by Fuente cigars.
IPCPR Wrap-Up
The 2011 IPCPR Series includes previews and assessments of cigars obtained from IPCPR. The July Month in Review maintains the full list – including material into August. The previews have been completed and currently there are additional assessments being added.
For all cigars not obtained at IPCPR, but purchased – these have been maintained outside the IPCPR Series. They are listed below:
Cigar Coop News
Cigar Coop quietly celebrated its one year anniversary. No contests, no sentimental stuff as it is more important to focus on what this web-site's mission is – to deliver content on the cigar industry. I would like to take time to express a thank you to everyone for their support.
A few folks asked me what happened to the cigar shop and event reviews. For the most part, these have been discontinued. I have mentioned that I wanted to take this web-site into more of a hard-core technical content site on cigars. There still will be an emphasis on tobacco legislation and major news events related to the industry. I might make an exception here and there, but for the most part, they will not be a part of the web-site going forward.
I'm still evaluating a numerical rating system (I've being saying this for months – I know…). It is postponed until the IPCPR cigar assessment content is completed.