ANGELO DUNDEE CELEBRATES 90th BIRTHDAY WITH A BOX OF CIGARS FROM TORAÑO FAMILY CIGAR CO.
FOR IMMEDIATE RELEASE
(Miami, FL) September 12, 2011- Hall of Fame boxing trainer Angelo Dundee celebrates 90 years of age with a reunion with a piece of his glorious past and a gift from the Torano Family Cigar Co. The legendary Dundee who trained 12 world boxing champions (most famously Muhammad Ali and Sugar Ray Leonard) had the chance to slow down for one of the few times in his 90 years to reminisce about days past as he was presented with mounted brick from the original 5th Street Gym which was torn down in 1994.
Turning 90 this Tuesday August 30, 2011 Angelo Dundee was all smiles over the weekend as invited friends and fans came into the new incarnation of the 5th Street Gym in Miami Beach which opened last year. Dundee who is still spry at 90 can't get away from his passion of boxing as he sat ringside giving pointers to young boxers hoping to one day be Dundee's 13th world champion. Friends wished him well for his birthday as he posed for pictures and signed autographs. Two special surprises came his way as boxing fan Ken Drodvillo surprised Dundee with a brick from the original 5th Street Gym and Torano Family member Carlos Llaca Torano presented him with a box of Torano Reserva Selecta.
Dundee seemed to get a bit nostalgic as he had a physical piece of a building which represented the golden age of boxing in his hands and the box of cigars took him back to the days of a free Cuba which is where he spent much time working with Cuban fighters. Dundee joked about his travels to Cuba using his "dirty-Spanish" which was a mix of his bad Spanish and his bad Italian to communicate with Cuban fighters. Dundee recounted how he started smoking cigars because of his frequent trips down to Cuba. Dundee looked over the glass tubes which encased the Torano Reserva Selecta cigars and was excited to call his son Jimmy over to show them and talked about plans to smoke them during their next poker night.
Carlos Llaca Torano said," It's an honor to represent the Torano family during special moments like these. To be in the presence of a living legend like Angelo Dundee as he turns 90 is quite humbling."
A leader in the cigar industry, Torano Family Cigar Company is a four generation company currently based in Miami, FL. It enjoys a rich heritage and history in tobacco growing and manufacturing. For more information: www.torano.com. Please also follow Torano on Face book: Torano A family Cigar Company or on Twitter: @TORANOFAMCIGARS.
Creativas Group Public Relations Inc. provides public relations and marketing counsel to South Florida-based businesses, nationally recognized special events and leading non-profit organizations. For more information, please log onto www.creativasgroup.com or email info@creativasgroup.com.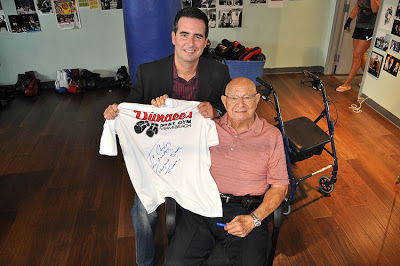 Carlos "Llaca" Torano posing with Angelo with a signed 5th street gym t-shirt as a special thanks for the box of cigars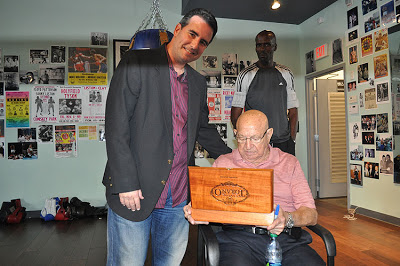 Carlos "Llaca" Torano with Angelo Dundee and box of Torano Reserva Selecta
Personal Thoughts
As a quasi-boxing historian, it gave me a lot of personal pride to post this particular press release. Angelo Dundee is one of the all-time great boxing trainers and his work with Ali and Leonard sits right at the top. Other world champions of my generation that Dundee trained included: George Foreman, Wilfredo Gomez, Pinklon Thomas, and Trevor Berbick.
But if you still don't know who Dundee is, go back to September 16, 1981 – 30 years ago. This was the epic Welterweight unification championship bout between Sugar Ray Leonard and Thomas Hearns. At the start of Round 13, Dundee believed his fighter Leonard was behind on the scorecards. He then said the famous words to his fighter – ""You're blowing it, son! You're blowing it!" After that, Leonard came back to score a TKO over Hearns in the 14th round.
I could not think of a better way to celebrate the 90th birthday of a living legend.
Source: This press release was sent by Creativas Group Public Relations, a group that handles public relations for Torano Family Cigars. Cigar Coop will post press releases as a service to all cigar companies that choose to send Cigar Coop press releases.