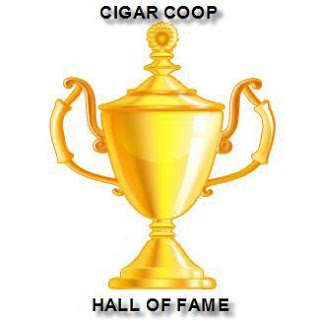 Columbus Day weekend is a special weekend if you are a cigar enthusiast. Columbus often is overlooked when it comes to the discovery of tobacco by the European community. When Columbus reached San Salvador he wrote in his journal, "the natives brought fruit, wooden spears, and certain dried leaves which gave off a distinct fragrance". This is a direct reference to tobacco. With Columbus Day coming on Monday and the fact that this holds some significance to the tobacco industry, I've decided to use this weekend to name inductees into the Cigar Coop Hall of Fame.
There are two types of inductees at this time – Cigars and People. All inductees are chosen by me.
For Cigars, there are three ways for a cigar to be considered for induction:
1) The #1 Cigar of the Year for the prior calendar year gains automatic induction (*)
2) All Cigars assessed "Memorable" at least one year prior to induction may be considered for induction. There is no minimum of maximum cigars from this category that may be considered
3) One Wildcard Cigar will be considered
* For 2011, the #1 Cigars from 2009 and 2010 will be considered. Starting in 2012, it will default strictly to the #1 cigar for 2011, etc.
For People, there are two categories. One inductee per year in each of these categories will be named
1) Industry Leader/Ambassador – This is a person who pretty much has spent a chunk of their life in the cigar business on a near-daily basis.
2) Non-Industry Ambassador – This is a person who does not work in the cigar industry, but have established himself as a well-known cigar enthusiast and/or promoter.
Stay tuned throughout the day on 10/7/11 for the inductees to be announced.