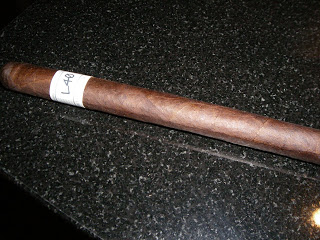 Drew Estate Liga Privada L40 Lancero
It's been a while since I've done an installment of the 2011 IPCPR Series. Over the past month, the fall cycle of new cigar releases hitting retailer shelves has definitely been the focus of my attention. As a result, there are still some samples from the IPCPR show that I had yet to smoke. Recently, I finally got around to smoking the Drew Estate Liga Privada L40 Lancero. This was a pre-release of a new installment that is pending in the Liga Privada line. While no release timetable has been announced yet, some of these cigars did make their way into people's hands. Folks who know me know I am not a lancero fan. However, with every cigar I try, its a clean slate. After sampling a couple of the L40 cigars, I became a believer that there is room in the Liga Privada line for a lancero.
The L40 is part of Liga Privada's Unico Serie series. The Unico Serie concept was introduced with the Liga Privada Unico Serie Dirty Rat. When that blend was released, Drew Estate President Steve Saka explained the Unico Serie as follows:
"At this point, we have made 200 or more Liga Privada blends. There are probably 9 or 10 of them so far that are exceptional, however their blends differ from both the No. 9 and the T52 branded cigars. They're cigars that work as a particular size, such as a lancero or corona, with the blend being unique to that particular vitola."
The Liga Privada L40 is the second release into this series and it is as descrbed a 7 x 40 lancero. Most lancero vitolas do not have a 40 ring gauge, therefore this was a lot of the rationale behind the naming of the L40. The slightly larger ring gauge was done on-purpose to accommodate the large variety of tobaccos going into a thin cigar.
Since this is a pre-release sample, I will default to a "pre-review" and share my experience with this cigar. I will hold off on a final assessment rating until the cigar hits retailer's shelves.
Blend Profile
The L40 Lancero uses Stalk Cut Habano – something found in the Liga Privada T52 and Liga Privada Serie Unico Dirty Rat.
Wrapper: Connecticut River Valley Stalk Cut and Cured Habano
Binder: Brazilian Mata Fina
Filler: 3 types of Nicaraguan Cuban Seed
Vitolas Available
As mentioned above, there is only one vitola – a 7 x 40 lancero. The last I heard, the L40 Lancero will be sold in boxes of 15.
Preparation for the Cigar Experience
After placing a straight cut into the L40, I commenced with a pre-light draw. The dry draw notes provided me flavors of leather, cocoa, wood, and a hint of pepper spice. I was a little surprised there wasn't more body on the pre-light draw because I heard this cigar was pretty much full-bodied. Yet, there was a subtle complexity on the pre-light draw that satisfied me. It was now on to fire up my Liga Privada L40 and see what else was in-store.
Flavor Profile
Once I lit the L40, I immediately got some of the power of the flavors right off the bat. There was a nice blast of pepper to start. I also picked up notes of bittersweet chocolate behind the pepper. Shortly afterwards, the pepper subsided a bit and the chocolate transitioned to more of a classic roasted coffee flavor.
About 10 percent into the smoking experience, the pepper spice subsided a little more and took on more cedar spice characteristics. I also detected some notes of leather and cream as secondary notes behind the roasted coffee and spice. I also picked up some tart flavors in the background.
As the cigar experience progressed to the second third, the coffee and cream notes were the primary flavors I was detecting. The spice was now more prevalent on the after-draw. I also picked up some notes of raw sugar cane on the after-draw. By the mid-point of the cigar, the spice became present on the full draw again. It eventually moved to the forefront of the flavor notes. The last 35 percent of the cigar showcased a combination of pepper and cedar spice in the forefront. The finish was spicy, but not harsh. My nub was cool, but a little soft – but I chalk this up to smoking my L40 rather slowly.
Burn and Draw
The burn was very good on the Liga Privada L40 Lancero. I've come to expect this as a staple of the Liga Privada line. It burned a little slowly, but it did not burn hot – a positive in my book. The draw was a little tighter than I would have liked, but it still was a solid draw.
Strength and Body
This might be one of the more fuller Liga Privada's in terms of strength and body – and there have been some strong ones (i.e. the Dirty Rat). I definitely felt the nicotine on this one – easily categorizing this cigar as full strength. As for body, the flavor notes were deep – making this easily fall into the full-bodied category.
Final Thoughts
Overall, a very powerful and complex smoke. The only intangible I would throw in is that while there were good flavors, there still seemed something a little green on this cigar. In other words, despite the fact I've had these samples three months, I think it could use some more age. When I first smoked 2010's Dirty Rat, I felt the same way- and a year later the Dirty Rat has proven to be one of my best smoking cigars of 2011. I think the best is yet to come with this cigar.
This is probably not a cigar for a novice enthusiast, but I would recommend this to an experienced cigar enthusiast. Folks who like a lot of power and flavor of a lancero will enjoy the L40. As for myself, while I said I'm not a lancero fan, I can find myself lighting one of these when they make it to the retailer's shelves.
Summary
Burn: Excellent
Draw: Good
Complexity: High
Strength: Full
Body: Full
Source: This samples were received at the 2011 IPCPR Trade Show. These samples were initiated by Drew Estate in order to provide feedback. I am appreciative for the sample, but in no way does this influence this assessment.
Note: All samples received from the 2011 IPCPR Trade Show will be included in my "2011 IPCPR Series"