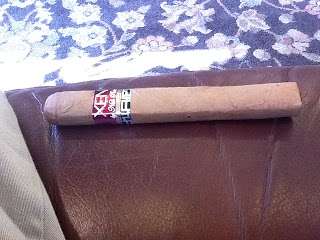 Rocky Patel Xen by Nish Patel
If you have listened to any of Rocky Patel's radio commercials (such as on Cigar Dave), you know that Rocky Patel is passionate about cigars. Quite frankly, Rocky is also a very good salesman when it comes to his brand. Thus as Rocky Patel's Xen by Nish Patel was announced with the slogan "Rethink Connecticut", I admit I was curious to see how this cigar would stand up to that motto. The 2011 cigar releases have already featured a lot of Ecuadorian Connecticut shade wrapper cigars. After sampling the Xen by Nish Patel, I can honestly say that this cigar actually lives up to a lot of the hype.
Last year, I felt that A.J. Fernandez was the one who broke the mold with Ecuadorian Connecticut Shade cigars with his San Lotano Connecticut. That cigar was my #8 cigar for 2010. In my opinion, this made its mark by showcasing that a Connecticut wrapper cigar can move into the medium range of the strength spectrum and the medium to full range in terms of body. Not only that, but that cigar provided outstanding flavors. Following that release, I noticed a lot of cigar manufacturers look to push the envelope in terms of strength and/or body around Connecticut wrapper cigars – namely, moving away from traditional "creamy" mild strength/body cigars into the higher ranges of the strength/body spectrum. Some cigar manufacturers have been more successful than others. The Xen by Nish Patel is one of those cigars that strives to break the mold of the traditional Connecticut wrapper cigars.
Xen by Nish Patel is a project that was spearheaded by Rocky Patel's brother Nish. It was unveiled at the 2011 IPCPR as the Zen by Nish Patel, but it did undergo a slight name change (Zen to Xen) shortly the show.
Original name – the "Zen by Nish Patel" – from IPCPR 2011
What does the Xen bring to the table? Let's take a closer look.
Blend Profile
Of course, this features an Ecuadorian Connecticut wrapper. No details have been disclosed about the filler, but here is what I do know of the blend.
Wrapper: Ecuadorian Connecticut
Binder: Nicaraguan
Filler: Unknown
Vitolas Available
There will be four vitolas. Each of the vitolas will be a box-press. The cigar is being promoted as the first Ecuadorian Connecticut box-press. The Xen will be sold in boxes of 20.
Short Robusto: 4 x 54
Robusto: 5 x 50
Toro: 6 x 52
Torpedo 6 1/8 x 52
Preparation for the Cigar Experience
For this cigar experience, I selected the Toro-sized vitola. I opted for a straight cut into the box-press shaped cap and commenced with the pre-light draw. The dry draw notes already showcased more body than I would expect from a Ecuadorian Connecticut wrapper cigar. These flavor notes featured a heavy dose of butter with a hint of cedar spice in the background. The dry draw was satisfactory so it was on to fire up the Xen and see what would come to the table.
Flavor Profile
The initial flavor notes of the Xen treated me to nice amount of pepper. I wouldn't say this was an overwhelming pepper blast, but it still was a decent amount of pepper. There were still some butter notes present as well. The pepper and butter are very distinct tastes and the best analogy I can use is that the pepper "layers over" the butter. Shortly afterwords, some raw sugar cane emerges in the background.
Around 15 percent into the cigar experience, the raw sugar cane transitions to more of a raw caramel. Shortly afterwords the pepper morphed into more of a cedar/pepper combination. The caramel and butter notes were still very much present. In the second third, the cedar/pepper spice moved to the forefront of the flavor profile.
When the cigar moved into the last third, the butter and caramel begin to subside and the spice notes continued to be in the forefront. There were some notes of wood that close out the smoke. The finish had a little bit of a rough finish, but still was not a bad one. The nub to the cigar was perfect – firm and cool. Overall, there was some nice complexity and flavors to what the Xen brought to the table.
Burn and Draw
I was a little skeptical about these construction attributes given the Ecuadorian Connecticut box-press is not something that has been seen on a regular basis. There were no major issues here. The Xen burned very nicely – requiring minimal touch-ups. It burned at an ideal rate and ideal temperature. I did find the draw a tad bit loose, but it was still a solid draw.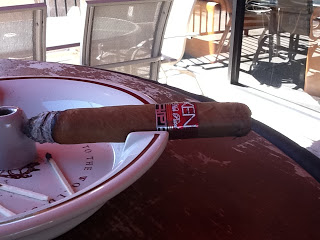 Burn of the Xen by Nish Patel
Strength and Body
For the Xen by Nish Patel, I do think they make their mark felt here. This cigar was definitely had more nicotine than most Ecuadorian Connecticut cigars. I definitely classify it as a medium on the strength scale. As for body, there were definitely rich flavor notes with some depth – easily a medium to full. Overall, I think it actually had more strength and body than the San Lotano Connecticut.
Final Thoughts
I started this assessment by asking the question whether or not the Xen by Nish Patel lives up to the hype and marketing. As I stated up-front, I can definitely answer this as a "yes". Is it a better cigar than the San Lotano Connecticut – which I use as a benchmark? A lot will depend on your flavor profile, and I am a fan of the the San Lotano Connecticut profile. However, this is not a knock on the Xen at all – just a matter of personal preference. This is the perfect cigar for the novice enthusiast looking to take it up a notch in terms of strength and complexity. It is also a cigar I'd recommend for experienced cigar enthusiasts, who want a little more kick on an Ecuadorian Connecticut. This is a cigar I'd smoke again.
Summary
Burn: Excellent
Draw: Good
Complexity: Medium
Strength: Medium
Body: Medium to Full
Assessment: Nice to Have
Source: The cigar for this assessment was purchased by Up in Smoke in Irving, Texas.