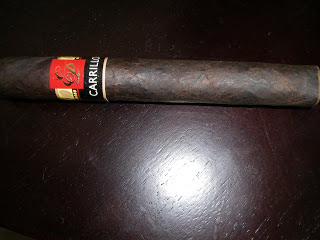 #8 E.P. Carrillo Core Line Maduro
We have now entered the Elite Eight for the 2011 Cigar of the Year Countdown. For this Epic Encounter, we have a second entry by E.P. Carrillo Cigars. E.P. Carrillo has had a busy year launching five new cigar lines. This cigar was one of the year's highlights.
Coming in at #8 is the E.P. Carrillo Core Line Maduro. Last year, E.P. Carrillo launched their Core Line natural blend. The Core Line Maduro is not the Core Line natural with a maduro wrapper, this is a different blend. It is intended to be a regular production release by E.P. Carrillo.
Overall, the E.P. Carrillo Core Line Maduro goes back to basics providing some classic flavors in a maduro. It provides a highly complex flavor profile with primary flavors of espresso, chocolate, cocoa, dried fruit, and baker's spice. There are also some nice secondary notes of toast, cinnamon, and molasses. The cigar starts out medium to full in strength and eventually closes out full-stength. The flavor notes are deep and easy qualify as full-bodied. The cigar consistently has a good draw. While some of the earlier samples did not have a stellar burn, this cigar has benefitted from some age and now has greatly improved in that area.
Click here for the pre-release assessment done on this cigar. A final assessment rating was given later in the year.
Blend Profile
As for the binder and filler, this is not the current E.P. Carrillo Core Line (natural) with a Connecticut Broadleaf maduro wrapper on it. This cigar also uses a different binder – namely Ecuadorian Sumatra (as opposed to double Nicaraguan on the Core Line Natural)
Wrapper: Connecticut Broadleaf
Binder: Ecuadorian Sumatra
Filler: Nicaraguan/Dominican
Vitolas Available
E.P. Carrillo created a lot of variety in their core line offerings in terms of vitolas sizes. There are 8 sizes of the E.P. Carrillo Core Line Maduro.. All of the Core Line Maduro offerings mirror the Core Line Natural offerings. The names of the vitolas for the maduro offerings are the same as for the natural offerings.
Churchill Especial: 7 1/8" x 49
Club 52 52: 5 7/8" x 52
Encantos: 4 7/8" x 50
Golosos: 6.25″ x 60
Predilectos: 6 1/8 x 52 (Torpedo)
Regalias: 5 5/8 x 46
No.4 Corona: 5 1/8 x 42
Monumentos: 7 3/8 x 56
Real Corona: 5 5/8 x 46
Recommended Vitola: Club 52