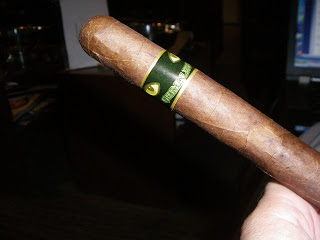 #9 Emilio Grimalkin
It is now time for what I term the "Noble Nine" in the 2011 Cigar of the Year Countdown. These cigars are now getting into the territory where these are the best of the best as far as Epic Encounters go. For this Epic Encounter, we go back to indie cigar maker Emilio Cigars as they place their second cigar in the Top 30.
Coming in at #9 is the Grimalkin by Emilio Cigars. Emilio Cigars comes from Gary Griffith of Delaware Cigars. Griffith is a Certified Retail Tobacconist who oversees the operations for the Delaware Cigars franchise. Griffith then went on to launch Emilio Cigars. The Grimalkin proved to be one of the real revelations of the 2011 cigar year.
A grimalkin (sometimes called a Greymalkin) is an old or evil-looking grey-colored female cat. The term "malkin" refers to a cat. The grimalkin is prominent in Scottish folklore as a faery cat that lived in the Scottish highlands. As mysterious as the grimalkin creature is, so is the cigar that bears its name. Griffith took an unorthodox approach to marketing this cigar by keeping the details of the blend under wraps. When I asked him about this approach, he told me his reason for keeping things secret was for "building a mystery".
When I sampled the Grimalkin, the cigar took many twists and turns with its flavor profile during the smoking experience. – fitting with the concept of "building a mystery". Along the way, I sampled notes of pepper, raisin, orange, honey, cinnamon, and cedar. From a flavor standpoint, the Grimalkin provided a very complex smoking experience. The cigar was well-balanced between strength and body – providing a medium strength smoke against medium to full-bodied flavor notes. Burn and Draw were outstanding
Click here for the full assessment done on this cigar.
Blend Profile
As mentioned above, at this time, Emilio Cigars has opted to keep the composition of the blend confidential other than this is Nicaraguan Puro.
Vitolas Available
The Emilio Grimalkin is available in three traditional sized vitolas. A Robusto, Toro, and Torpedo. While I do not have exact dimensions (a little mystery here too), these are pretty standard for this vitola.
Recommended Vitola: Toro