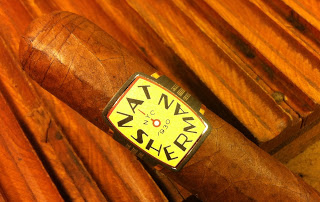 Nat Sherman Timeless Collection: picture from"The Good Life Diaries"
Nat Sherman is a legendary cigar store in New York that has been open for over 80 years. In addition to the store, the Nat Sherman brand has been well-known in the tobacco industry for many years. Michael Herklots, the executive director, retail and brand development posted on his web-site the announcement of a new cigar in the Nat Sherman brand – the Nat Sherman Timeless Collection.
Herklots joined Nat Sherman in April, 2011. He was previously the general manager of Davidoff's New York City retail stores. Part of why Herklots was brought in was to boost the Nat Sherman brand on both the retail and tobacco side. The Nat Sherman Timeless Collection marks one of the first of his projects.
For the Timeless, Nat Sherman has teamed up with the Quesada family of MATASA (Manufactura de Tabacos S.A) to make the cigar. The Quesadas are well-known for their work with the Fonseca, Casa Magna, and Quesada brands. MATASA has worked with Nat Sherman in the past to develop the Metropolitan line. MATASA is also teaming with Nat Sherman on a new series for the "Bench Collection". The Bench Collection production cigars that will be sold exclusively the the Nat Sherman retail store and differs from the Timeless Collection line of cigars.
Over the past few months, Nat Sherman has been working with retailers and consumers soliciting feedback on the cigars. At the 2011 IPCPR trade show, Nat Sherman asked many retailers to sample some upcoming blends and provide detailed feedback.
Here is some information on the blend and vitolas for the Timeless Collection as reported on Herklots' web-site.
Blend Profile
The Timeless Collection leverages tobaccos from what I term the "Big 3" – Honduras, Nicaragua, and the Dominican Republic.
Wrapper: Honduran
Binder: Dominican
Filler: Dominican, Nicaraguan
Vitolas Available
The Timeless Collection will be sold in boxes of 20. It currently is available in three vitolas.
Churchill: 7″ x 48 – SRP $150
Hermoso 5 1/4″ x 54 – SRP $140
No. 2 6 1/4″ x 52 (Torpedo)- SRP $160
No. 5: 3 3/4 x 43 – SRP $125
Herklots also mentions on his web-site that the Timeless Collection should arrive at the Nat Sherman Townhouse store in New York in December. This will then followed by a launch to brick and mortar retailers in January, 2012.
*Special Thanks to Michael Herklots on providing some additional information and corrections to what what originally posted.