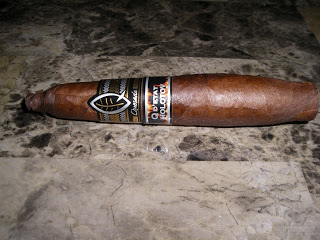 SAG Imports today announced a new cigar joining the Quesada line.   This cigar has been titled the Quesada Q d'etat.    The Q d'etat is a cigar intended support the cigar industry's battle against the government and Pleasure Police factions.  The first vitola is called the Molotov.
From the SAG Imports' web-site, here is the following text that describes the naming of the cigar and the vitola:
We chose the name because the term was first coined by the Finns in reference to the cocktail bombs they utilized to fight against Communist oppression from the Soviet Union during the Winter War in 1939. When the Soviet foreign minister Vyacheslav Molotov falsely claimed Soviet planes were dropping bread baskets and not bombs over Finland, the Finns began to refer to the bombs as Molotov Bread Baskets and responded by naming their own improvised incendiary devices Molotov cocktails, joking that they needed a drink to enjoy with the food. We chose Dec 8th, 2011 to issue this press release because the day marks the 20th anniversary of the dissolution of the Soviet Union.
This is intended to be a limited release.  There will be 1000 boxes of each vitola (the plan is for three sizes) produced.  Each box will contain 10 cigars.   To support the battle against the Pleasure Police, Government, and FDA – each box will contain a form to fill out to join Cigar Rights of America.
Here is some additional information on the Quesada Q d'etat.
Blend Profile
The Quesada Q d'etat is an all Dominican puro:
Wrapper: Dominican
Binder: Dominican
Filler: Dominican
Vitolas Available
The plans are for three vitolas to be made available.  Currently only details on the Molotov are known.  The Molotov is a figuardo and is symbolic to represent the shape of a molotov cocktail.
Molotov: 5 x 38/58/44
Stay tuned for more details in the future on this release.